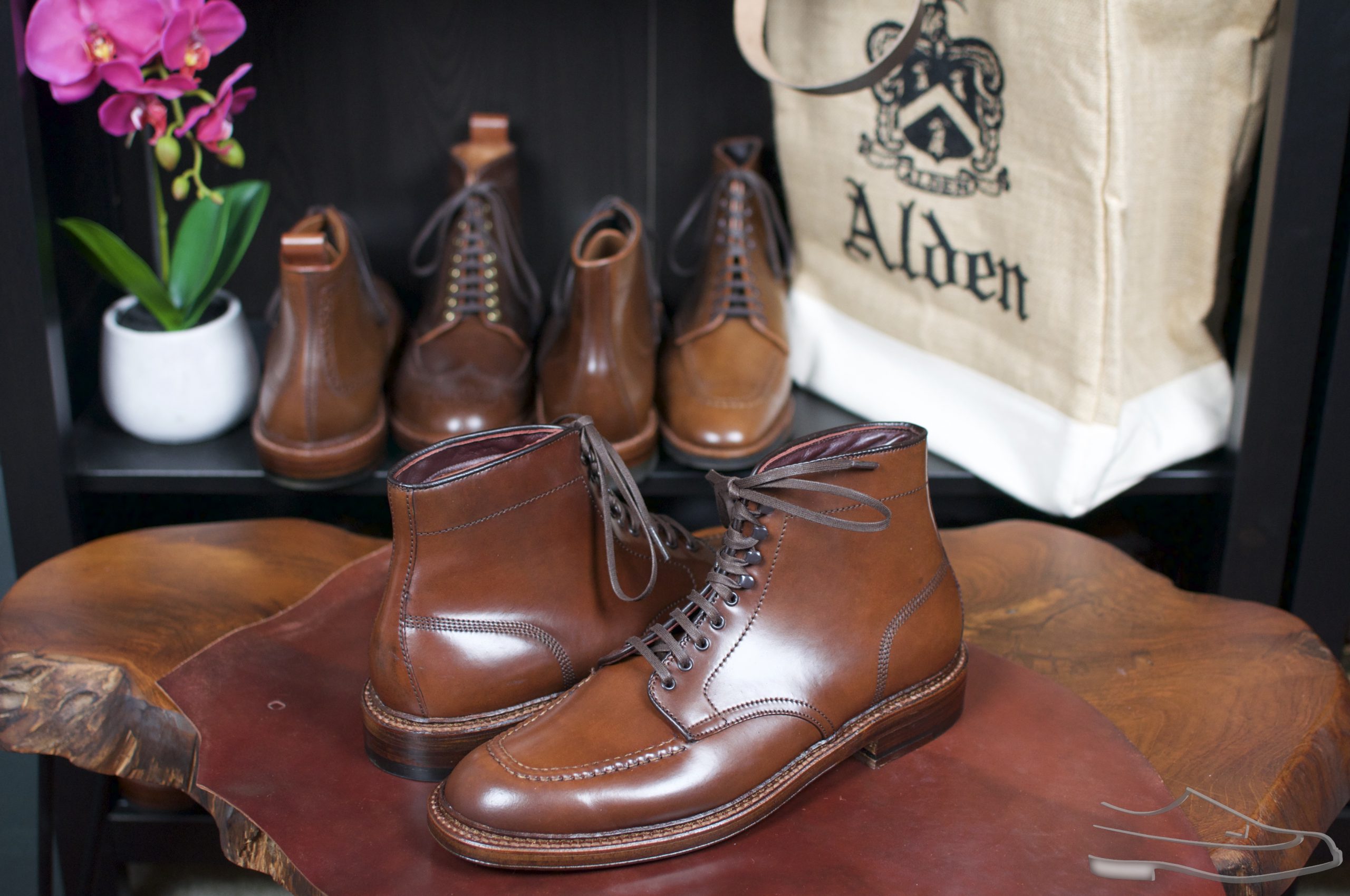 Alden Color #4 Indy
There is impossible and then there is an Alden Color #4 Shell Cordovan Indy Boot. Those are essentially synonyms. I would have never in my wildest dreams ever imagined myself owning a pair of Color #4 Indy Boots.
For those of you who are not aware, Color #4 Shell Cordovan is a lovely rich shade of Shell Cordovan that uses half the dye of their famous burgundy shaded Color #8 dye. The result is an amazing, rich color that is a lovely combination of red and brown. It looks absolutely phenomenal on footwear. Alden made a several runs of shoes back in the 2010 and 2011 timeframe, but had not made anything in Color #4 Shell Cordovan since. 2020 was a breakthrough year (for many reasons), but it saw the return of Color #4 Shell Cordovan starting with David Wood's Perforated Tip Cap Toe Boot.
Well, David Wood has struck again, this time with Alden's renounced Indy pattern. The Indy Boot is Alden's Boot made with a stitching around the apron of the vamp. The boot design was made famous when Harrison Ford wore them during his portrayal of Indiana Jones. The Shell Cordovan variants now only come with Alden's exquisite hand stitching on the apron, creating a more custom look to the boots.
These amazing Indy Boots feature an amazing shade of Color #4 Shell Cordovan and the always amazing hand stitched apron. The Color #4 is paired nicely with an Antique Edge, that plays nicely with the shade of the upper. These boots are treated with Alden's homemade Double Waterlock outsoles, providing superior performance in the rain, while still retaining the classic style of a leather soled boot. The sole is attached to the upper using Alden's pre-stitched reverse welt. These Indy Boots have the unique quad-stitch pattern on the heel to provide a nice, custom appearance. Finally, these boots feature brown eyelets with speed hooks for more convenient wearing.
Overall, these boots are the boot to beat and are truly a wonder from Alden. More pictures are below.
Here they are compared to some other Color #4 models from the 2020 era.
Here is an interesting comparison with the recent run of Ravello Shell Cordovan Indy Boots.