After Buying
How should I break in my shoes?
Use "Mac's Break-in Procedure":
Shoes should be worn only on carpeting on three different days for a minimum of one hour in order to ascertain that the fit is proper.
What is the "pen trick"?
You put a pen where your foot joints are and then crease the shoe. This way the crease is set exactly where your joint bends and the crease is nice and even. People report varying levels of success with this, and it is generally thought to be more important for the PTB.
Will my cordovan shoes stretch?
The consensus is that cordovan stretches very little, if at all.
Care and Cleaning
How should I clean my cordovan shoes or boots?
Use the "Mac Method+":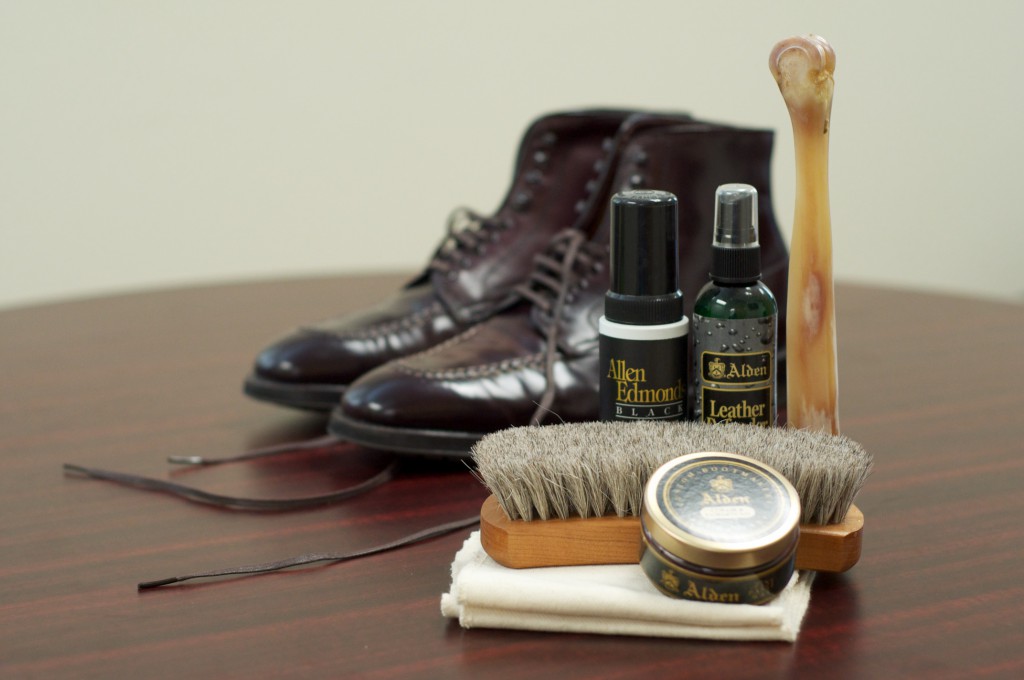 Small derivative of the "Mac Method" with additional specificity. Detailed process can be found here.
http://aldenofsandiego.com/caring-for-your-shell-cordovan/
Use the "Mac Method":
1) Clean shoes with damp cloth
2) Brush vigorously with a horsehair brush
3) Buff with smooth cloth
4) Use wax after a minimum of fifteen wearings
http://www.youtube.com/watch?v=lp5nyVAjMWQ&feature=player_embedded
http://theagatineeyelet.wordpress.com/2010/10/05/the-mac-method/
Some other cleaning advice from Alden of Carmel
1. Do not use 'neutral' polish
2. Do not clean cordovan shoes using saddle soap
3. Do not attempt to clean cordovan shoes using petroleum distillates or cleaning fluids
4. Do not use any spray shines or aerosol type waterproofs
5. Do not attempt to dry wet shell cordovan shoes with heat or a heater. Wipe them dry, and allow them to dry naturally
6. Do not attempt to polish shell cordovan shoes while wet
http://www.alden-of-carmel.com/index.cfm/care_of_shell_cordovan.htm
Some cordovan cleaning advice from the Shoe Care thread
http://www.styleforum.net/t/228153/the-official-shoe-care-thread-tutorials-photos-etc/1425#post_5216113
Some cleaning advice from user MarioImpemba
http://seddylife.tumblr.com/image/36249869978
My shoes are dry and/or discolored in the creases. How can I fix this?
Alden SF recommends using a small amount of cream in the creases. This can moisturize the area and also bring up some of the natural color in the leather. Most people use either Saphir Renovateur or Venetian Shoe Cream or Alden Boot Cream.
http://www.hangerproject.com/saphir-renovateur.html
http://oakstreetbootmakers.com/accessories/venetian-shoe-cream
My cordovan shoes got wet and there are tiny round marks or bubbles. What should I do?
1) Next time try the Alden Leather Defender
2) Brush them for awhile
3) Try some Renovateur
4) Try the deer bone treatment
5) Just wait, it will go away evenutally
My cordovan shoes has some white stuff on the leather. What do I do?
This is called "bloom". One method is to use a hair dryer, hold it 6″ away from the shoe, and then after it cools down use a chamois cloth and buff it for awhile. It should go away.
How do I care for the edges on my shoes?
This depends for the color of the dressing. For Black, I recommend the Allen Edmonds Black Heel & Sole Edge Dressing. You may also want to consider the Saphir edge dressing projects available from the hangerproject.com as well.
Antique Edge Care
For antique edge dressing, a simple care routine would be to use AE's Natural cream polish.
For more advanced care, I recommend Patrick's method, which is as follows.
"I scuffed up the edge trim on one of my cigar PTB's this week. I've no idea how it occurred. I didn't want to use a dark brown edge trim as I wanted to keep the visible layers of the stacked leather sole. I only have brown & black edge trim, both AE branded.
To add color to the scuff, I touched it up with AE's Walnut cream polish ("Premium Shoe Polish" in the tube). For reference, AE's walnut shoes are a light to medium brown. I then applied a thin layer/small amount of AE's brown carnauba wax polish to the entire edge trim. IMO it came out well.
Before & After pics below. In the before images, I bumped up the exposure & sharpening to make the damage more easily visible."
Before:

After:
I want new shoelaces for my Indy Boots. What are my options?
1) Alden will mail you a pair if you ask. http://www.aldenshoe.com/
2) The Alden Madison store will sell you waxed laces for ~$6. http://aldenmadisonny.com/
3) Red Wing model 9011 will work, request them here http://www.redwingheritage.com/laces/
Restoration and Cobblers
Alden offers a restoration service. More information can be obtained from Alden directly.
http://www.aldenshoe.com/DrawOnePage.aspx?PageID=12
Will Alden put a different sole on my shoes?
No, Alden Restoration will now only recraft your shoes using original materials.
If you want to put on a different sole, your best bet may be B. Nelson.
Can I have speed hooks converted to eyelets?
B Nelson will do it for $12 per eyelet (not per pair). A standard Alden boot with 4 pairs of speed hooks would therefore run $96. The top four eyelets would be off-centered with the bottom five, which is often done to compensate for the oblong size of the speed hooks.
Here's an example: http://www.styleforum.net/t/85589/the-official-alden-thread/18000#post_4958968