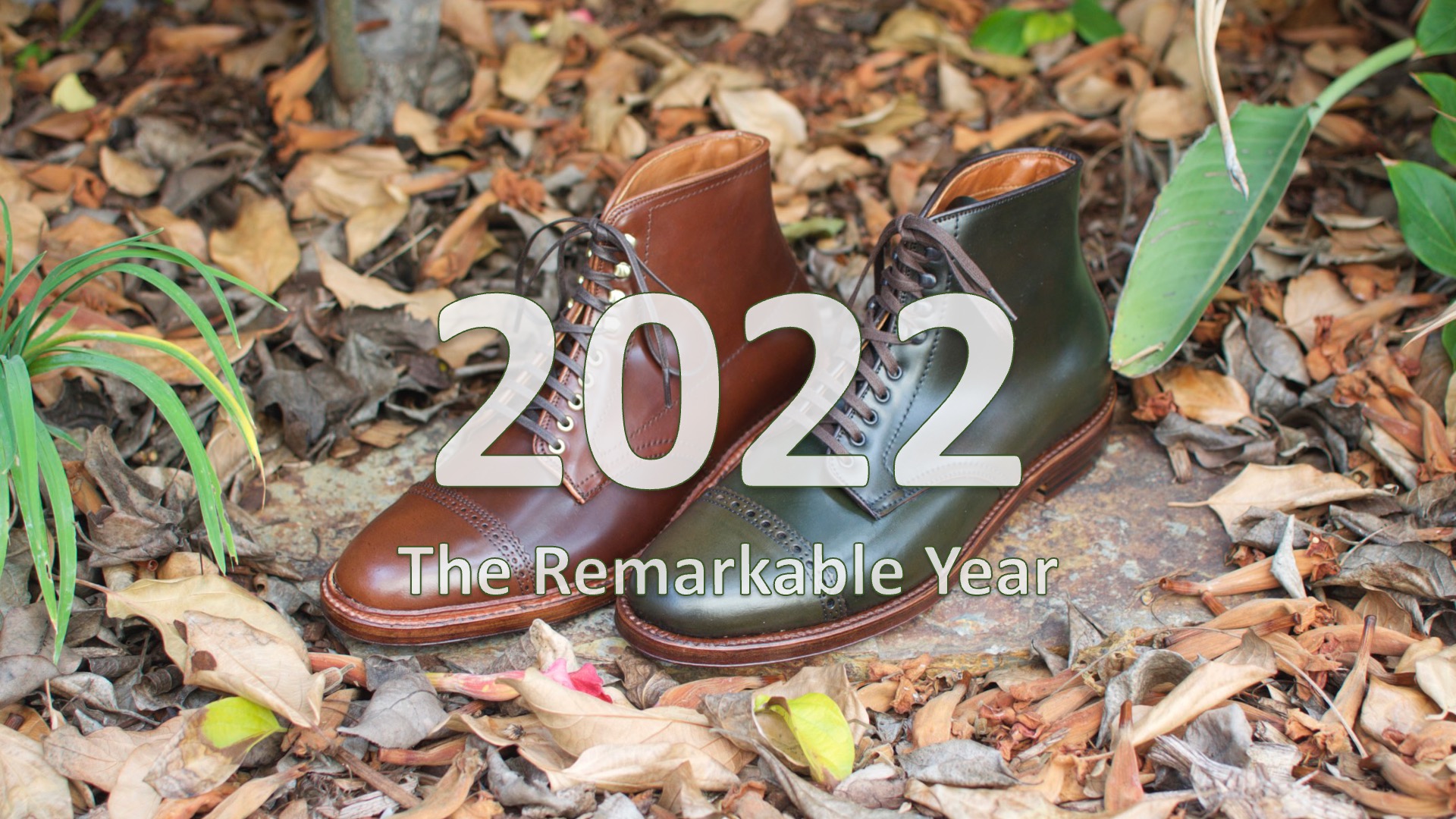 2022: The Remarkable Year
Wow, I cannot believe that it is already time for 2022 to come to a close. This year has been truly remarkable featuring some truly special shells and shoes that I could have never imagined receiving! 2022 largely saw life return back to more of a normal, but this was anything but a normal year from a shoe perspective!
Thinking about 2022 through the Alden lens, it was a remarkable year with new shades of Shell Cordovan being made and even new product lines! This year, we saw Alden continue to produce remarkable Color #4 models along with re-introducing Amaretto Shell Cordovan. Alden continued to put out magical models in every other shade of Shell Cordovan including Ravello and Color #8. I continued to refine and grow my Suede collection with more Milkshake and a new Choco Suede. We also saw Alden release their first bi-fold wallet, in recent history, in nothing other than Cigar Shell Cordovan. Finally, we had a new shade of Shell Cordovan come out of Alden and one that I would have never seen coming, Antique Bronze.
I rounded out the year with a few pairs from Edward Green, Viberg, and Rancourt.
In the order that I received the pairs this year, here is what I was blessed to have received.
Alden Ravello Shell Cordovan Atom Blutcher (Style by Blain)
Alden Milkshake Suede Atom Blucher (Ealdwine)
Edward Green Color #4 Shell Cordovan Cap Toe Blucher (Gentlemen's Footwear)
Viberg Bourbon Shell Cordovan Service Boots
Alden Color #4 Shell Cordovan LHS (Alden of Washington D.C.)
Alden Ravello Shell Cordovan Jumper Boot (Brick + Mortar Seattle)
Alden Antique Bronze Shell Cordovan Jumper Boot (Alden)
Alden Cigar Shell Cordovan Bi-Fold Wallet (Alden of New York (Madison))
Alden Amaretto Shell Cordovan Jumper Boot (Alden of New York (Madison))
Alden Color #4 Shell Cordovan Grant-lasted Wingtip Boot (Alden of Washington D.C.)
Alden Color #8 Shell Cordovan Unlined Dover Blucher (Brick + Mortar Seattle)
Akden Chocolate Suede V-Tip Boots (Brick + Mortar Seattle)
Alden Milkshake Suede Unlined Tassel Loafers (Alden of New York (Madison))
Alden Amaretto Shell Cordovan Wingtip Boots (Style by Blain)
Rancourt Natural Shell Cordovan Horse-Bit Loafers (Leffot)
Alden Mahogany Shell Cordovan Wingtip Balmoral (AF-2) (Alden of Carmel)