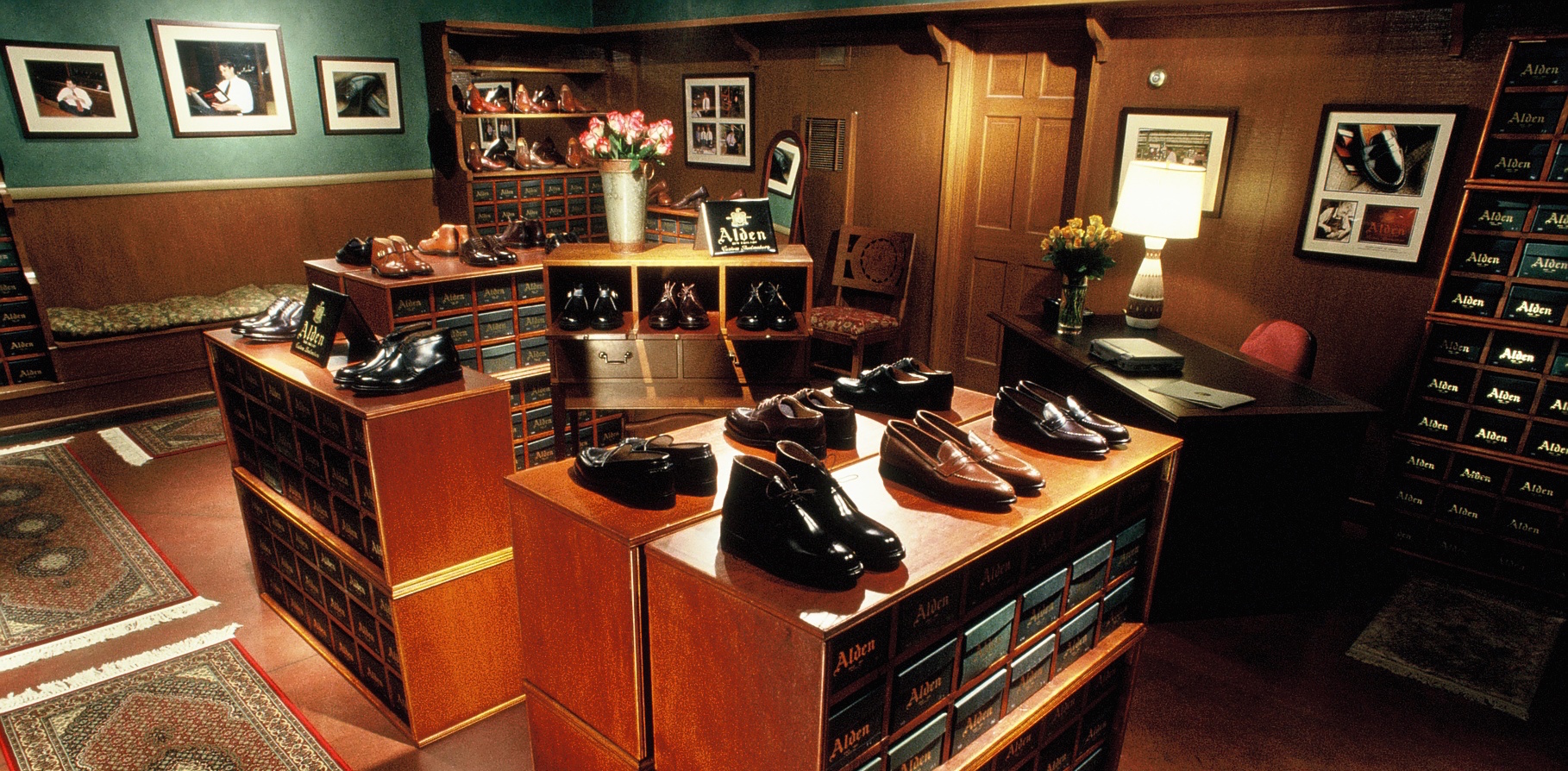 Store Spotlight: Alden of Carmel
This is the first post in a new series of articles that I am calling Store Spotlights. The intent of these posts are to give everyone a stronger sense of what each store is about. I realize that not everyone "gets" to travel all over for work and many Alden fans have not actually been to a majority of the stores. I hope to make you feel like you have visited the store in person to understand what each store is about and some thoughts about my experiences visiting each store.
I have thought long and hard about which store that I wanted to feature first and have decided to start this series with Alden of Carmel. To start off, I have actually met the Alden of Carmel proprietor, Adam Knott, in person. He is extremely nice and personable, but above all very passionate about the Alden brand.
Meet Adam Knott, proprietor of Alden of Carmel, courtesy of Alden of Carmel.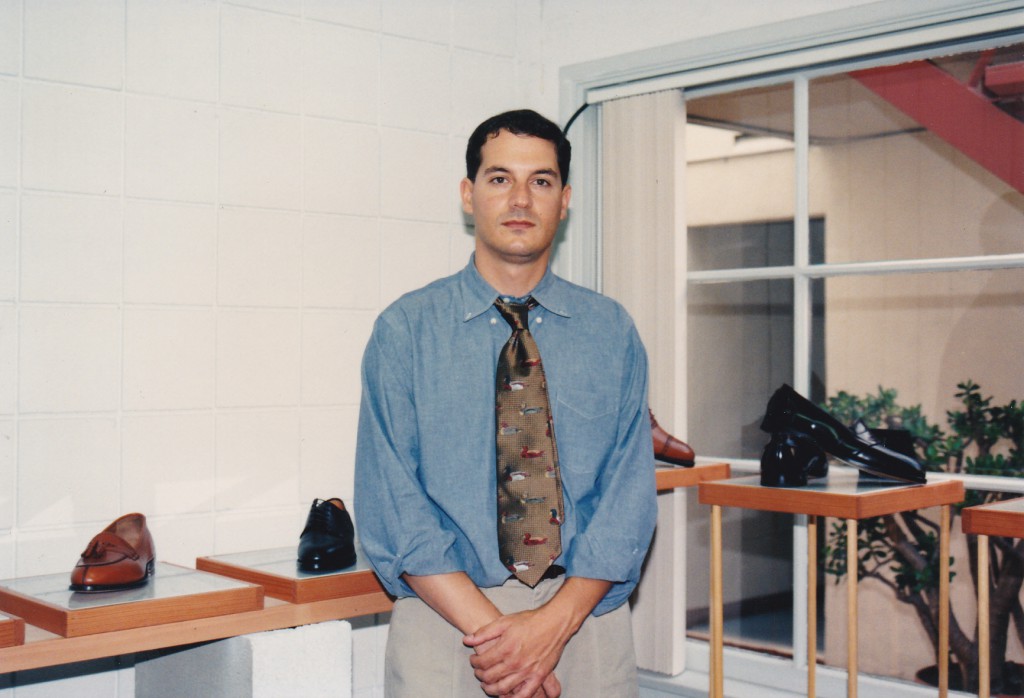 Retail Background
Adam has always been in the men's fashion industry, working as an assistant buyer at Bullock's Department Store in Los Angeles and at Caswell-Massey and Gimbels in New York City from 1983 to 1985. During this time, he wore Alden classic models like the Black Calfskin Tassel Loafer (660) and Black Calfskin Semi-Brogue (909). He then moved back to his hometown of San Diego in 1986, where he worked for Saks Fifth Avenue, I. Magnin, and The Ascot Shop. Adam was unable to convince the owner of the Ascot Shop to carry Alden Shoes and decided to take matters into his own hands.
Adam Knott at a fashion show around 1980, courtesy of Alden of Carmel.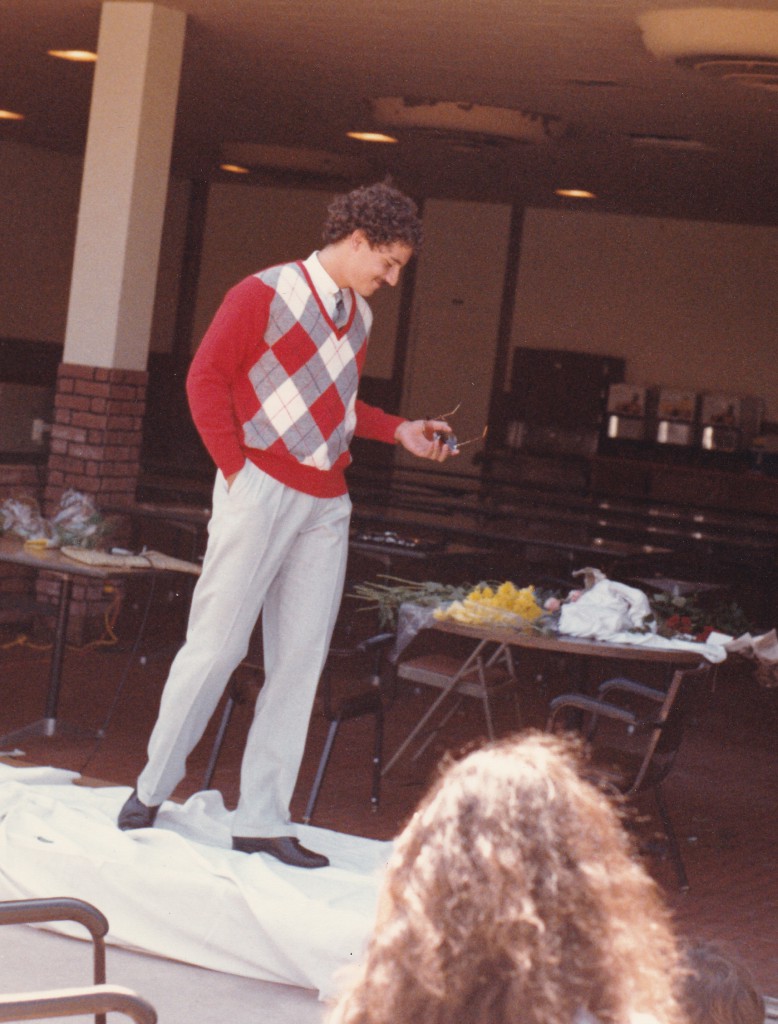 Alden Shop in La Jolla
Adam opened Alden of Carmel in La Jolla, California (located in the one and only San Diego County) back in September of 1994. Adam continued to work at the Ascott Shop and ran his new Alden venture before and after his shifts at The Ascott Shop and on his days off. Alden of Carmel, not yet called Alden of Carmel, was the first "Alden only" single-brand store. All of the other shoe stores (like what is now the San Francisco Alden Shop and Alden Madison) later became Alden-only stores, but at that time carried other brands such as New Balance, Sebago, and ET Wright. I think Adam would be the first to admit that he started with a very humble store that did not have a ton of decorations, but working with a tight budget, he made some wood and tile shoe displays and used bolt-ends of Robert Talbott tie fabric as store decorations. He placed his first Alden order of 24 pairs on a credit card and the rent for the small store space was just $325 per month. Try and get that today in La Jolla.
The original Alden Store in La Jolla, courtesy of Alden of Carmel. Note the Ties used as decorations.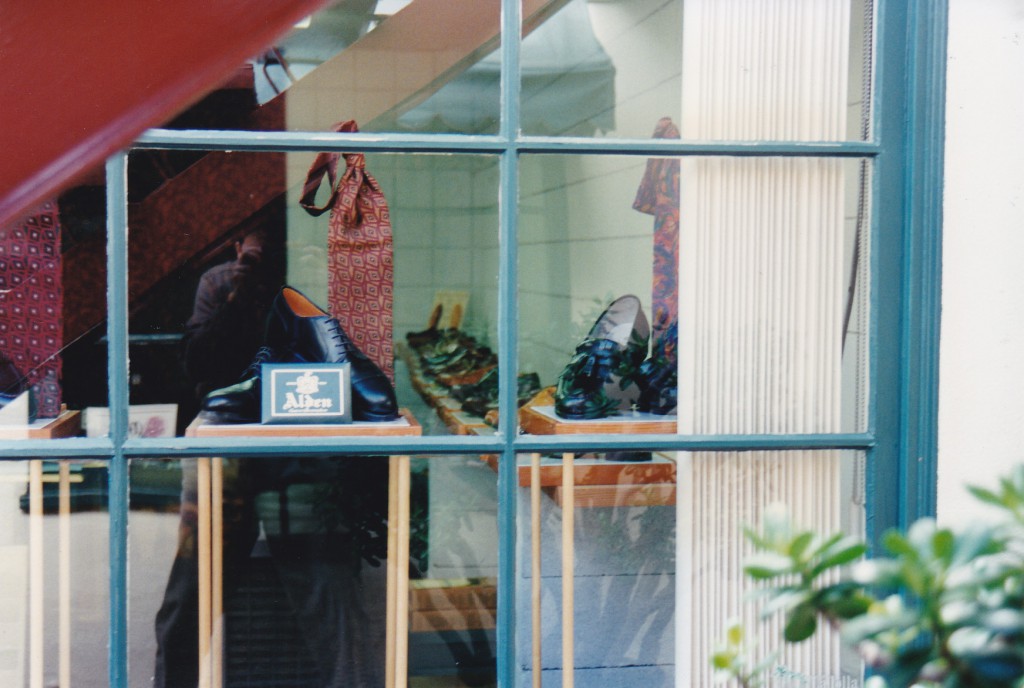 The Aldenmobile parked along the La Jolla coastline, courtesy of Alden of Carmel.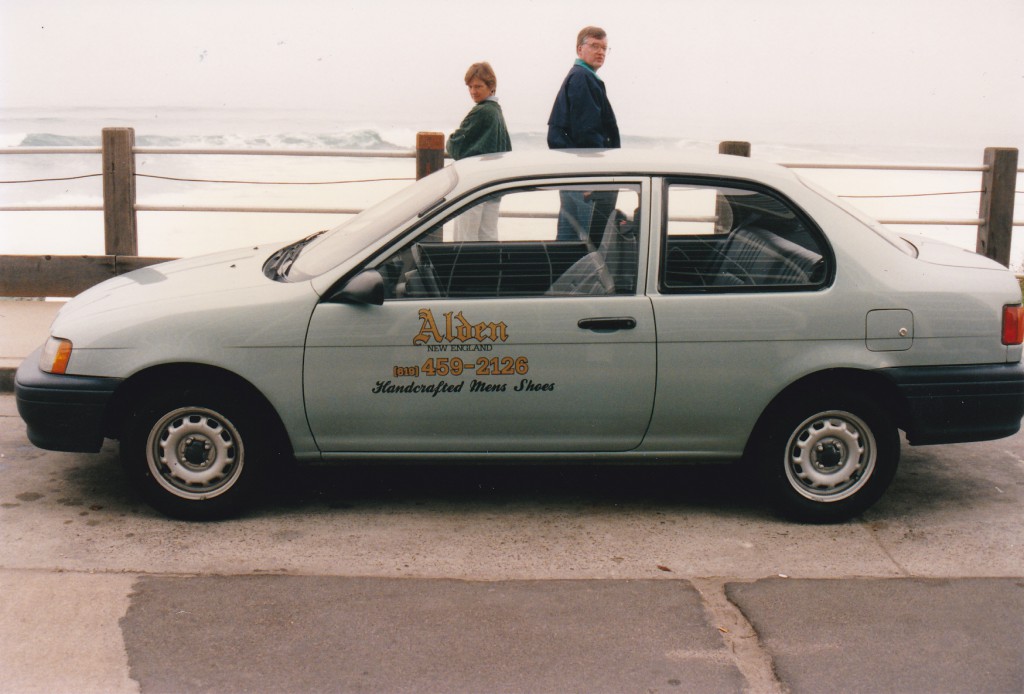 Internet
In 1995, the Internet was starting to boom into what it was today, and Adam realized it as a strong commercial medium.  Alden of Carmel, along with the Alden Shop of San Francisco, was one of the first two Alden stores to establish an online presence.
Alden of Carmel
Almost two years later, Adam got a job at the Robert Talbott tie store on Ocean Avenue in Carmel, California, and decided to move to beautiful Carmel in December of 1995. He opened his new store in the Court of the Golden Eagle Complex off Lincoln Street in Carmel in March of 1996. In the years 1998 and 1999, Adam slowly built a wide variety of custom shelves and fixtures to hold the Alden shoe boxes, polishing kits, and display cases. This wood palace set the bar exceptionally high for all of the stores to follow. To this day, I haven't seen a store so masterfully and purposefully designed to showcase Alden shoes. I truly believe that Adam's passion and perfectionism really reflects in the store that he built out and that he provided a store truly deserving of the finest American hand-made shoes. This store remained open from its opening in 1996 until 2003. Pictures of the Alden of Carmel interior were used by the Alden sales representative to promote the "Alden Shop" idea to other talented retailers in the western United States and in Asia.  The owner of Tassels, an Alden store in Hong Kong, flew over to the United States to see the Alden of Carmel store.   The owner of the famous Japanese Alden seller Lakota House, Yoshi Chiwaki, visited Alden of Carmel as well.
Adam at his newly opened store in Carmel, courtesy of Alden of Carmel. Several beautiful AF models through his shop.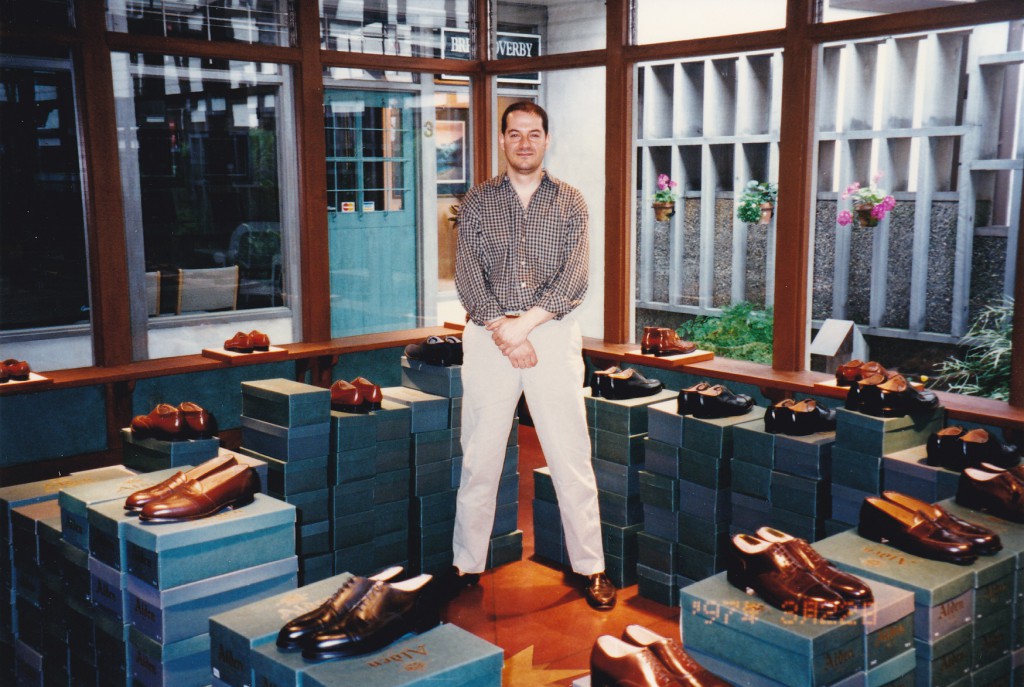 The growing Carmel store being up kept by Adam, courtesy of Alden of Carmel.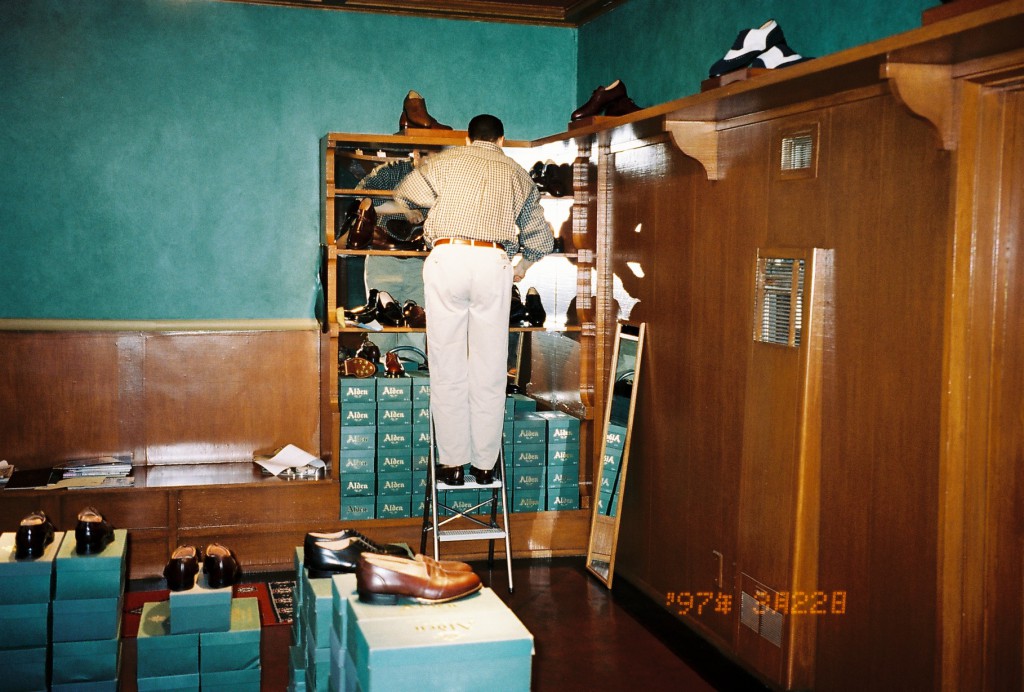 The Shell Cordovan shelf featuring several Shell Cordovan models and a Shell Cordovan sample, courtesy of Alden of Carmel.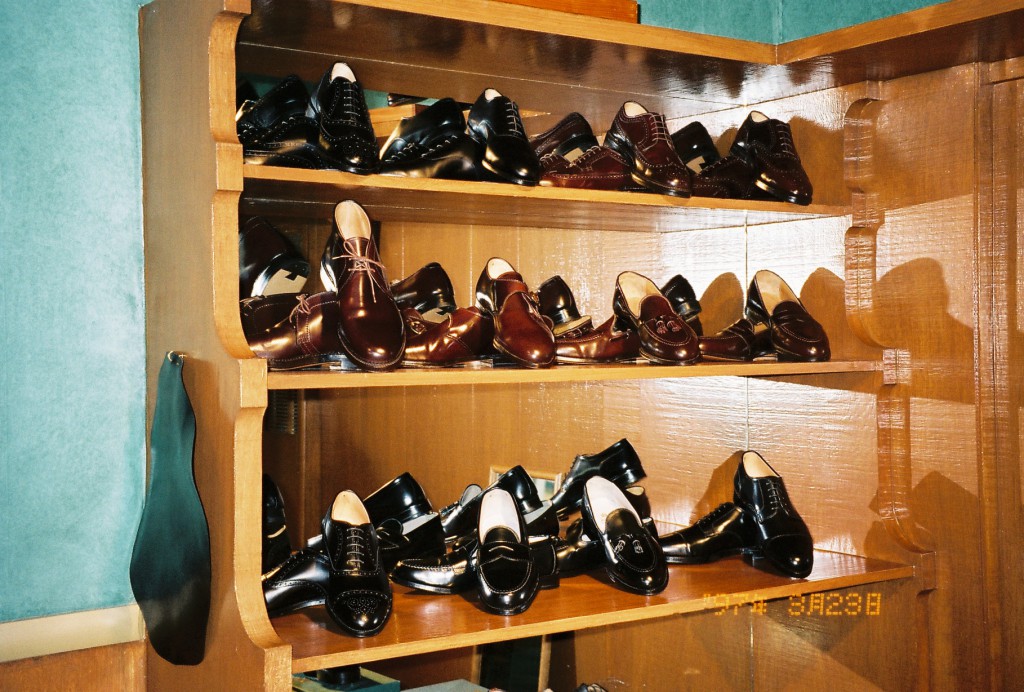 The Make-up Concept
In 1995, Alden was doing make-ups for stores, mainly in Japan and Germany, but there were very few make-ups done for United States stores. 99% of the Alden business done in the United States was from the Alden catalog. Correspondingly, in 1996, Alden of Carmel had the idea to introduce an entire line of Alden make-up shoes and present them online as the "Alden Fan" (AF) line.  This was the beginning of the first serious Alden make-up business in the United States market. The Alden Fan line suggested a new business model in which each Alden retailer could present their own uniquely designed line of Alden shoes.  Retailers preferred this new approach since it allowed them to differentiate themselves and to have unique, exclusive, and exciting shoes to offer to their customers.  Customers preferred this new approach because their choices were greatly expanded. The Alden Fan line was the blueprint for other stores including The Shoe Mart's "Bootmaker's Edition" line and Leather Soul's make-up business starting in the mid-2000's. By around 2008, the Alden retail atmosphere had changed completely, when almost all retailers became familiar with the Alden make-up concept.  This led to the so-called "Alden make-up revolution" in which retailers and consumers began to have a greater appreciation of the Alden brand.
In the beginning, from 1996 to 2003, the AF line was designed to provide fashion forward models. Alden of Carmel introduced a lot of new styles and details that Alden customers in the United States had never seen before. This included the usage of the Plaza Last, the Commando Sole, the Norwegian front slip-on, Wide Sole Extensions and exotic materials like Mahogany and Whiskey Shell Cordovan. From 2003 to 2015, the Alden Fan line took a turn to the more classic direction, in which the styles of shoes became more classic and traditional. Adam today continues to offer a wide variety of Alden Fan (AF) makeups and is now introducing his Alden of Carmel (AOC) makeup line. The AOC line will re-introduce a line of more fashion-forward Alden designs, beginning in the Spring of 2016. Alden of Carmel will create some brand new Spring shoe designs, and also reach back into their past and re-introduce some old classics in updated leathers.
Move to Washington
After living in La Jolla and Carmel, Adam and his family had become accustomed to coastal living with salt-water views. Adam with his family decided to purchase a house and re-located to the beautiful Olympic Peninsula of Washington State with panoramic views of the Strait of Juan de Fuca, Canada, and the San Juan Islands. Since moving to Washington, in 2003, Alden of Carmel has not had a physical (brick and mortar) location. But Alden of Carmel has and continues to work closely with other brick and mortar retail stores in the Seattle area, such as J.Gilbert Footwear and the newly-opened Brick + Mortar.
Brand Promotion
Alden of Carmel has also been proactive in trying to recruit talented retailers throughout the United States to carry the Alden brand.  For example, the owner of Context Clothing in Wisconsin was an Alden of Carmel customer. In the course of making a purchase, Adam suggested that Context Clothing carry Alden Shoes, and that is how Context Clothing became an Alden account.  Alden of Carmel also helped to recruit the talented Nicole Miller of Blackbird boutique in Seattle to sell Alden Shoes, and helped to establish J.Gilbert Footwear as an Alden account.  Alden of Carmel currently works closely with Brick + Mortar, the most recent Alden store opened in the United States.
Adam inspecting the wood slab that would be the prominent table at Brick + Mortar, courtesy of Alden of Carmel.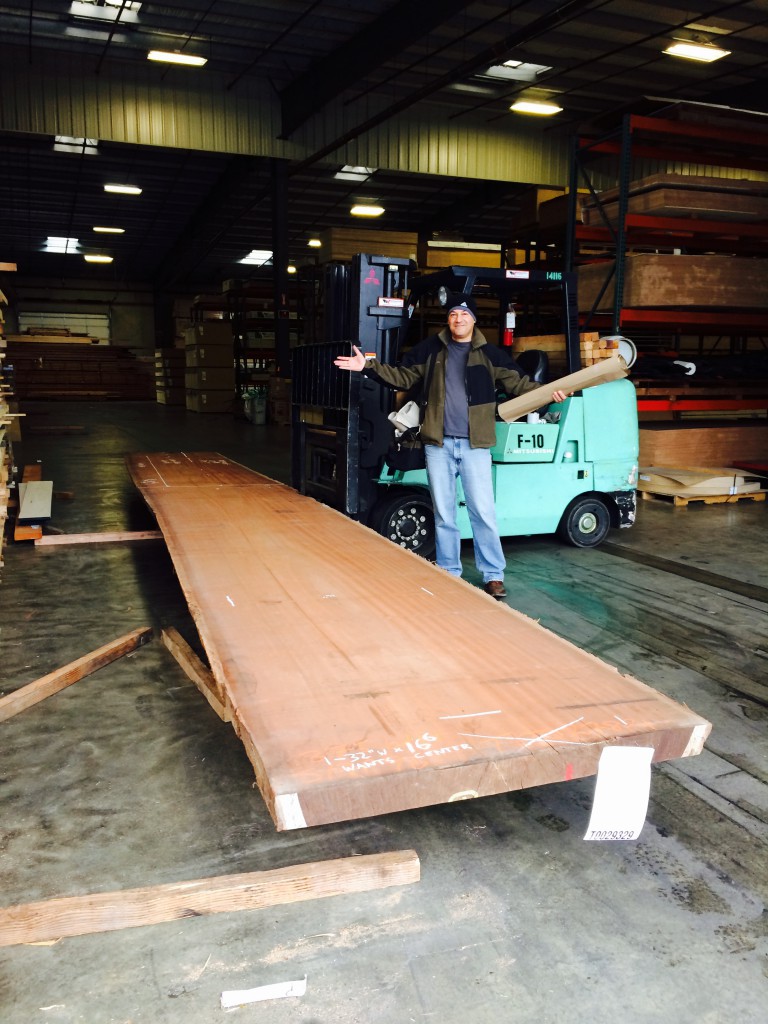 Adam staining the installed wood slab table at Brick + Mortar, courtesy of Alden of Carmel.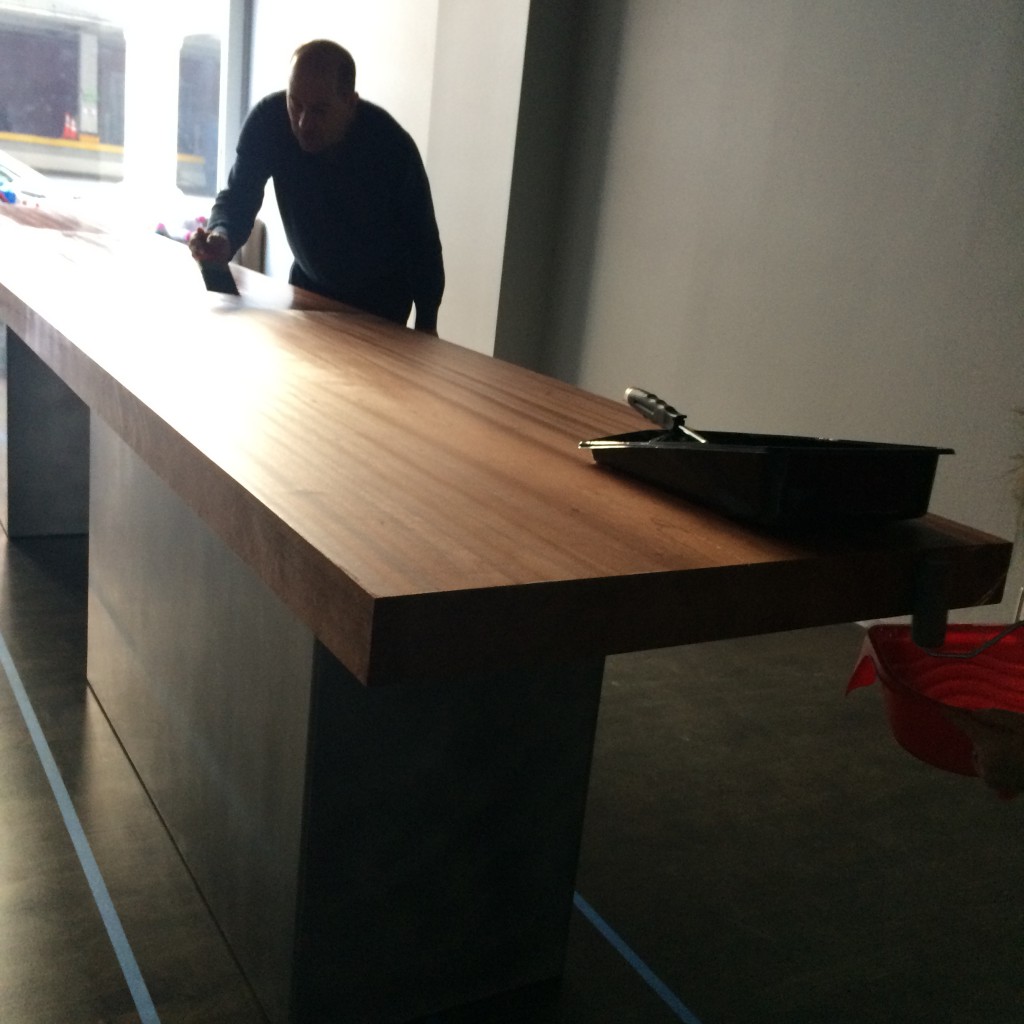 Service
Beyond promoting the Alden brand, Adam continues to be a retailer of Alden Shoes through his online presence. Adam has personally inspected over 8,000 pairs of Alden shoes since he started selling them in 1994 and has personally inspected, cleaned, detailed, and packaged every pair sold by Alden of Carmel since 1999. The Alden of Carmel process of inspecting, cleaning and detailing each pair can take up to 45 minutes per pair. That's around 5000 hours of Alden inspection time since 1994! Thus, every pair sold by Alden of Carmel is inspected, detailed, and packaged, by one of the most experienced Alden sellers in the United States. Adam is readily accessible via E-mail and typically monitors his E-mail at least 14 hours per day and responds to the typical E-mail inquiry within a half hour of receipt. His goal is to process all orders error free and to get things right the first time. Adam handles all service issues promptly, and continues to support the shoes that he sells.
Adam runs a very well done (and recently renovated) website which features the Alden models that he stocks or will be refreshing along with the inventory of JGilbert Footwear and Brick + Mortar. He continues to bring innovation to the Alden community via his Instagram outreach, inclusion of his Pictures of the Day, and his recent partnership with Randy the Cobbler from Tempe, Arizona to provide customization options to customers. The Alden of Carmel website features the ability for customers to purchase shoes online.
Conclusion
Alden of Carmel is a fantastic store featuring many great, conservative and fashion forward Alden styles designed for the most refined gentlemen. From 1996 until 2003, Alden of Carmel epitomized the ultimate Alden shopping experience with its beautiful, custom made furniture, and full line of Alden make-up shoes. In many ways, Alden of Carmel was the precursor and pioneer of the Alden world we know today.
The finished Alden of Carmel store, courtesy of Alden of Carmel.
The Alden of Carmel 20/20 shoe (2014), commemorating Alden of Carmel's twentieth anniversary. Only twenty pairs of this special shoe were produced. It is the only Alden shoe ever made with Alden of Carmel's name inside the shoe.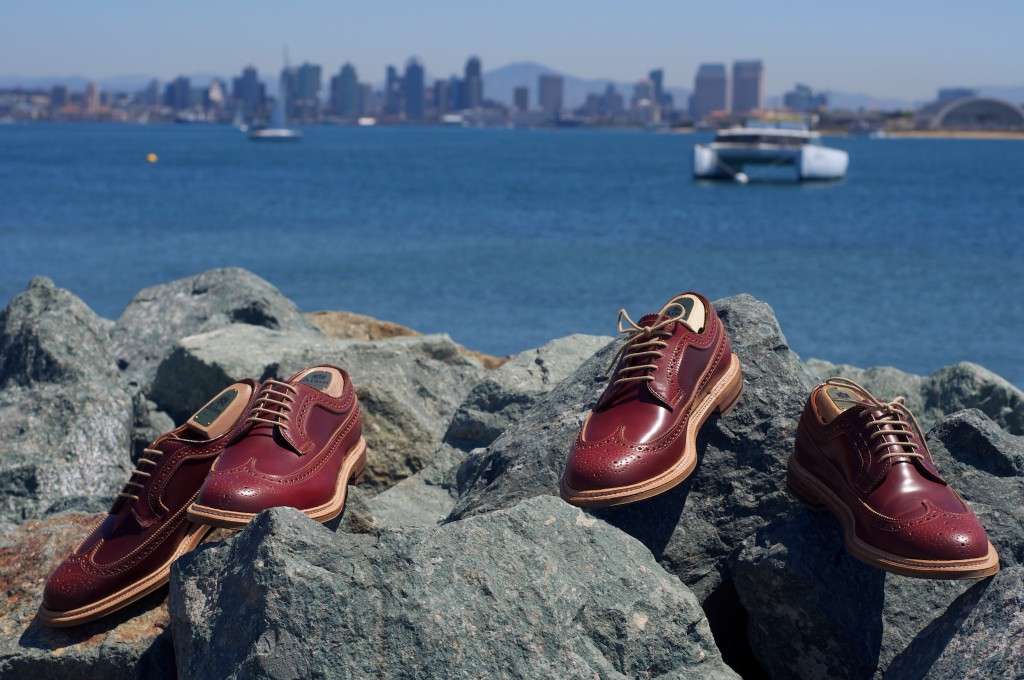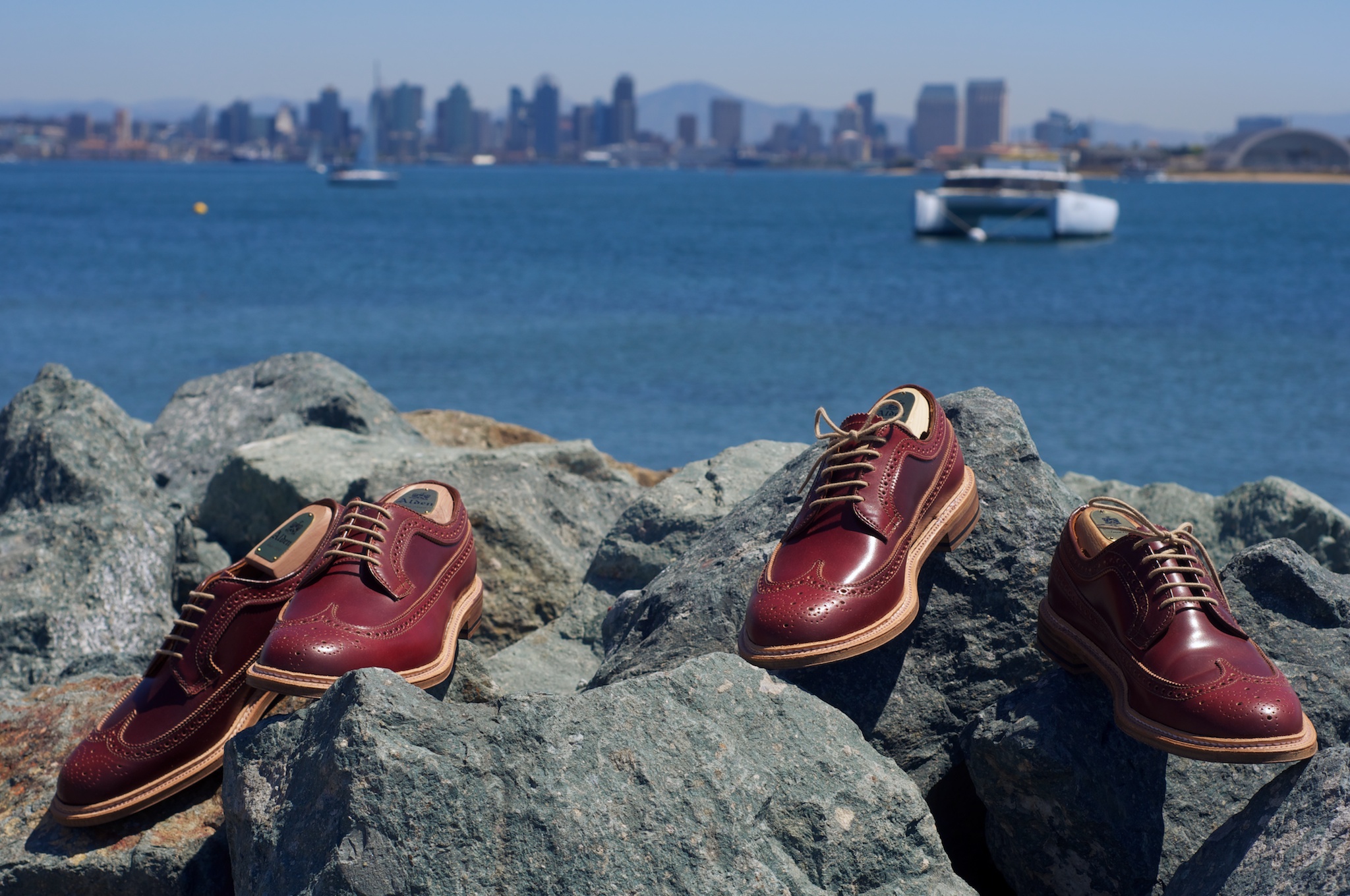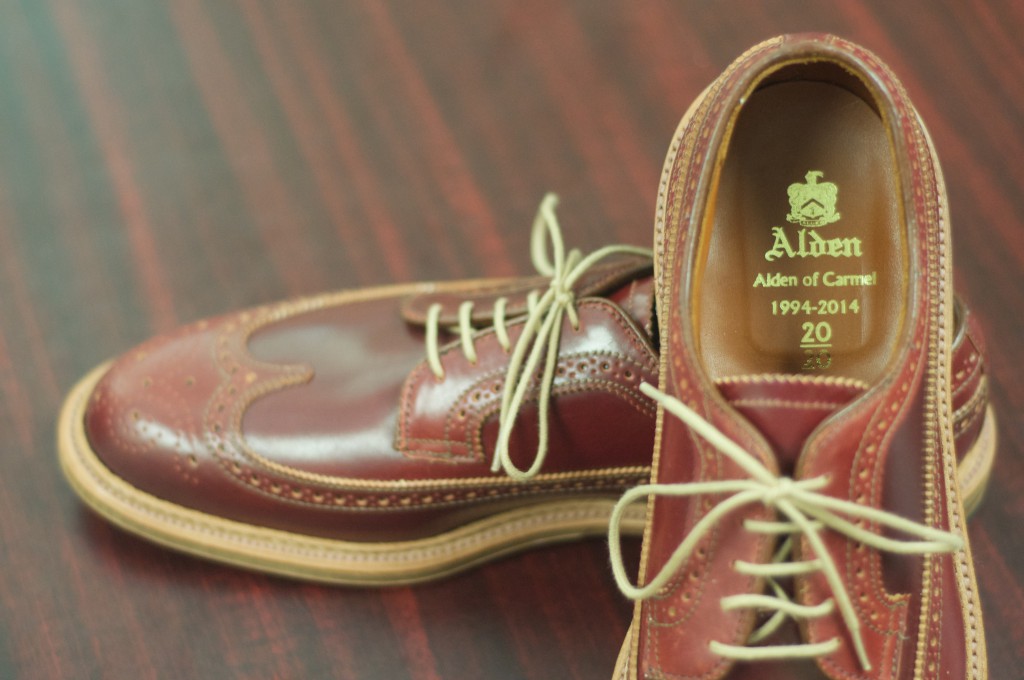 ---
Website: http://www.alden-of-carmel.com/
E-mail: question@alden-of-carmel.com