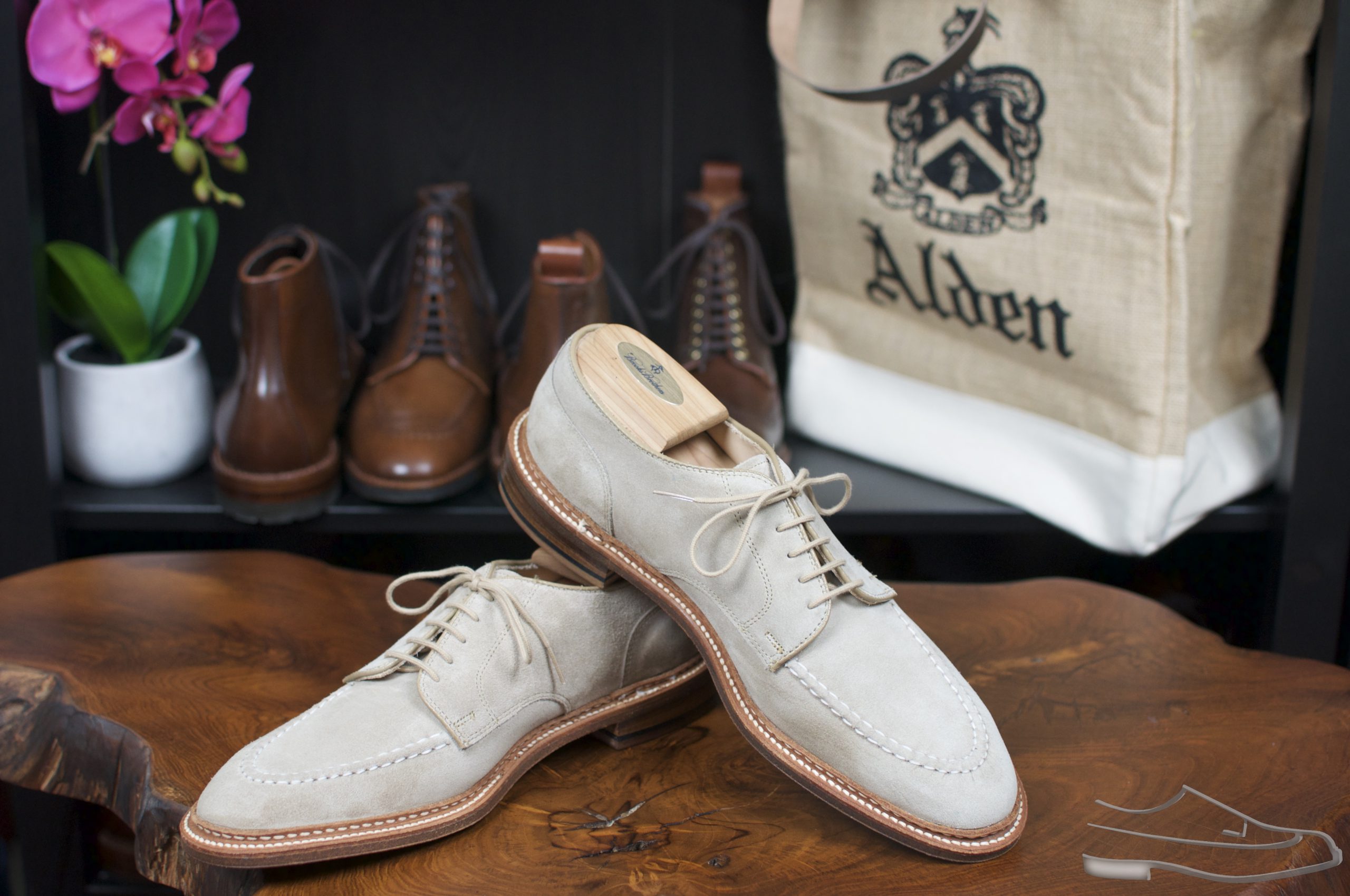 Alden x BB Unlined Milkshake Suede U-Tip Bluchers
I have long looked at various Milkshake Suede makeups with admiration. Epaulet used to make an amazingly gorgeous Milkshake Suede Indy Boot, that I have long desired. Recently, I ordered a very similar model from LaRossa/LOUIE Shoes in Massachussets. I was actually working with Alden to see if I could get the perfect summer blucher made, an Unlined Milkshake Suede NST Blucher with a lovely flexible leather sole. Unfortunately, Alden wouldn't do that model with no lining, so I sort of dropped the project. Randomly browsing eBay, I was amazingly surprised to see this gem pop up.
This model is an old model from Brooks Brothers. It was exactly what I was looking for… the PERFECT summer blucher. This Blucher is the lovely, light Milkshake Suede that is probably halfway between Alden's pure White Suede and their light Tan Suede. It's really a nice shade of Suede. This blucher has an Unlined Front to it, similar to Alden's stock Unlined Suede Dover PTBs. This will create a buttery smooth feel. But, this Blucher isn't just Unlined, it also has Alden's meticulous hand-stitching across the apron of the vamp, making a truly beautiful and comfortable blucher. To accompany the Unlined nature of this sole, this shoe features Alden's custom made Flex Welt construction. This special outsole is oil soaked, providing superior flexibility and water resistance. These shoes are fitted with a natural Pre-Stitched Reverse Welt and a Natural Edge. This shoe is made around Alden's Barrie Last, which provides a friendly fitting. The blucher pattern is the DeRosa Blucher, with a nice touch on the quarters and the characteristic "box" stitch on the rear of the blucher.
Overall, this is just one superb blucher that will be a truly superb summer suede makeup.