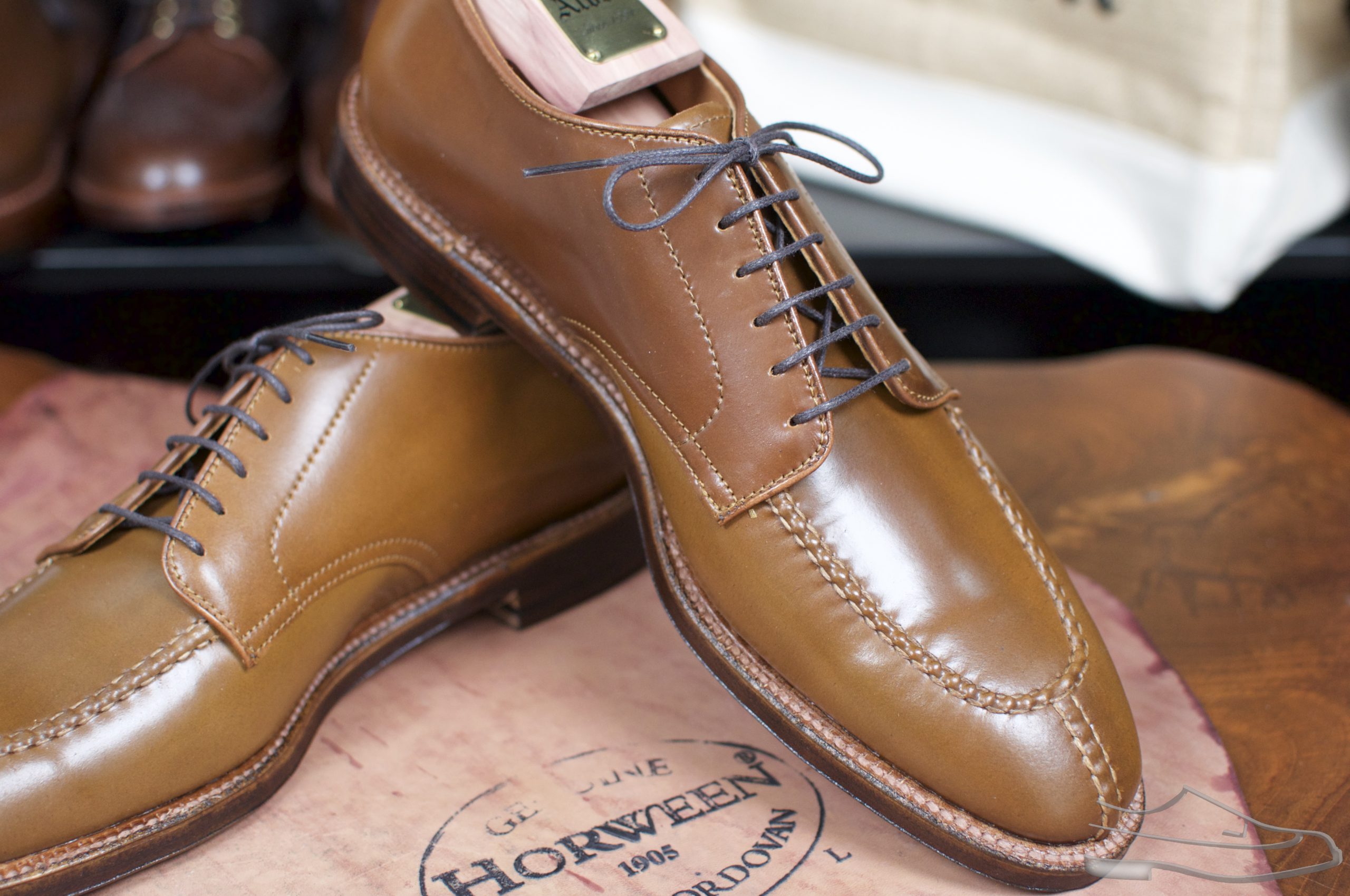 Alden Whiskey NST Blucher
Sometimes it amazes me that certain models are not more readily available. The Whiskey Norwegian-Split Toe (more frequently called the NST) Blucher is one of them. The Norwegian-Split Toe pattern is one of those truly special patterns. It is the most time consuming model for Alden to produce as it has the most hand-stitching work on it, with the hand stitching running around the apron of the vamp as well as up the toe (thus the source of the name). The Cordovan NST is readily available from Alden, to include their classic 2210 and 2211 (Aberdeen Lasted #8 or Black Shell Cordovan Blucher), but it is extremely rare to see it in Whiskey. Perhaps it is because of the time consuming process to produce or the hard to source Whiskey Shell Cordovan material, but in the end, all that it comes down is that it is rarely offered.
Typically when the NST Blucher is made, it is made around Alden's iconic Barrie Last or their sleek Aberdeen Last, however Voltaire wasn't looking to do the typical. These lovely bluchers were made around Alden's stylish Plaza Last. The Plaza Last has a semi-squared toe and has a generous mid-foot. It is truly an exquisite last and the pairing of this last with the detailed hand work of the NST pattern, produces a truly phenomenal byproduct. These bluchers are no exception to that.
These Bluchers are made out of Horween's famous Whiskey Shell Cordovan (well actually Bourbon, but close enough), which is a lovely tan shade of Shell Cordovan. It is close to the natural shade of the horse hide, but adds some pigment that stabilizes the material some over time. As already mentioned, these were made around the Plaza Last. The Whiskey is perfectly paired with Alden's always lovely Antique Edges, creating a fantastic aesthetic. The edges are attached to the upper with a flat welt that goes all the way around the shoe. These Bluchers feature Alden's house made oiled outsoles, providing a little more flex and water resilience, while not giving up the style and formality. These Bluchers have 6-eyelets, an abnormal detail, that helps to increase the sleekness of the shoe and giving it a longer, more formal appearance.
Voltaire, of Style by Blain, absolutely nailed the details on these Whiskey NSTs, making a truly exquisite model that will pair nicely in a business environment or will work perfectly in a business casual attire.