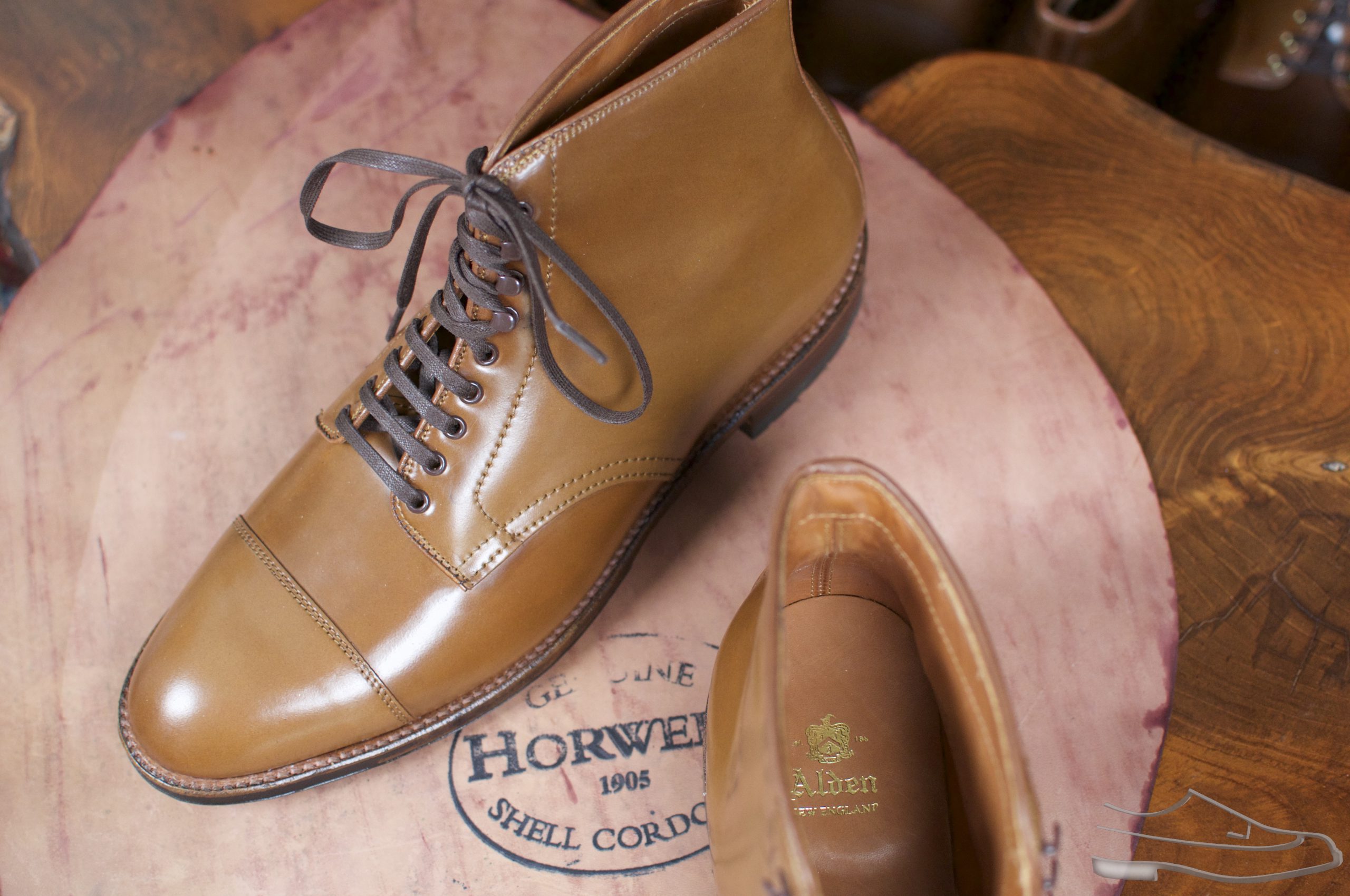 Alden Whiskey CT Boot
There is nothing more classic than footwear made with the Cap Toe design. Typically, when you think of a Cap Toe, you are thinking of the formal staple of the Cap Toe Balmoral. This is not your board room shoe, this is one rad Whiskey Boot.
Over the past decade, the Cap Toe Boot has become a classic from Alden of Washington D.C. They started their journey with their 4060HC and 4065HC, the classic Color #8 Shell Cordovan and Black Shell Cordovan variants of the Grant Cap Toe Boot (4060 and 4065), but ramped up with Alden's famous Commando Outsole and Speedhooks. Alden D.C. then started to spice it up by doing their variant in Cigar Shell Cordovan. This became one of their truly iconic models and became one of the must get Alden's. After several runs of Cigar, Alden D.C. added a Ravello variant to their offerings. This became another instant classic, I mean anything in Ravello looks amazing, so it was no surprise that such a lovely design would be the perfect match. Also, Leffot has a history of making a very similar model, known as the Day Tripper. During one of my conversations with the shop, we chatted a bit about how it would be nice to round out the offering and tossing a Whiskey variant into the mix and thus the Whiskey Cap Toe Boot was born. And it does not disappoint.
Whiskey Shell Cordovan, which is now actually made using Horween's Bourbon Shell Cordovan as Horween is no longer actually producing Whiskey Shell Cordovan, is Horween's lightest dyed offering. It has always offered a nice Tan shade and it takes a truly special (aka clear) Shell to be able to be dyed so lightly. This boot received some of the nicest Whiskey that I have seen in recent history. It has a really nice glow to it and an amazing yellow tone to it, that I haven't seen in many years.
This is Alden D.C.'s classic Cap Toe Boot. Perfected around Alden's Grant Last. It is the simple and elegant Cap Toe Boot pattern that is adorned with Speed Hooks on top and Eyelets on bottom. These boots are an amazing Tan shade of Whiskey Shell Cordovan that is paired with Alden's Antique Edges. These boots have the Commando Outsole, the perfect pairing for boots. The formal pattern is matched with a flat, 360 degree welt. Making a superb composition that can be both used for business or casual environments.
Overall, Alden D.C. made a magnificent model that all will desire to have. This inaugural run of this model came with an exquisite shade of Whiskey Shell Cordovan.