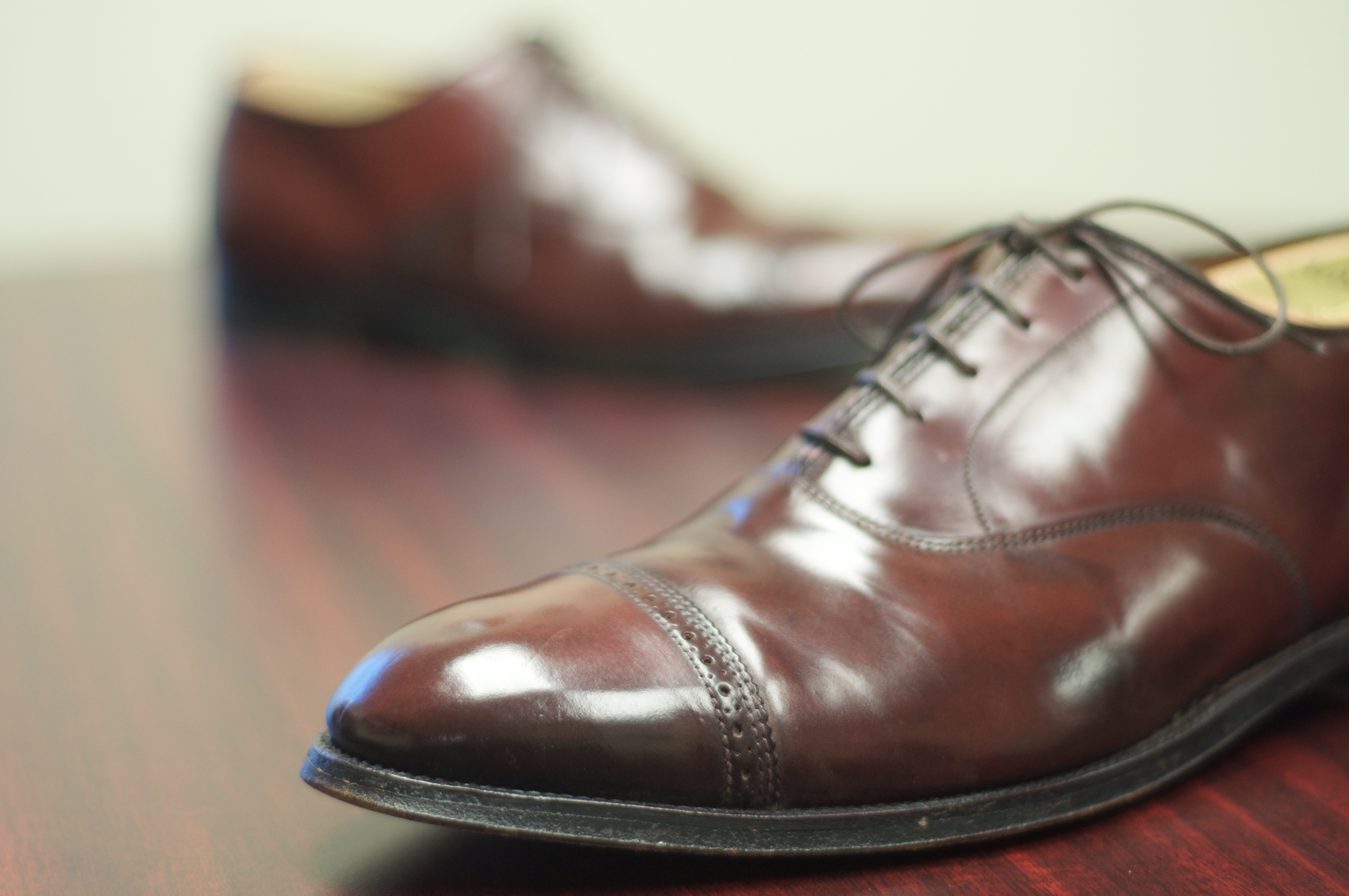 For Sale: Alden Color 8 Perf Tip Cap Toe Balmoral – 11B
Gentlemen,
For your consideration, I am selling the classical Color #8 Shell Cordovan Perforated Tip Cap Toe Balmoral in size 11B, yes "B" as in Benny. These beautiful shoes were made in 2008 and feature a uniquely red Color #8 color. These balmorals were specially made for Culwell and Son. These balmorals were made around Alden's Hampton Last, perfect for dress shoes, which tends to fit True-To-Size (TTS), thus they are recommended for someone who is a 11B TTS. These shoes were sold as second quality, and have only been worn many times, and are made of the beautiful and versatile Color #8 Shell Cordovan and have fitted with the Dark Edges to make them a great dress shoe. These shoes are in good, but well worn condition. I recently had a new heel stack put on them with original Alden parts. I am selling them because I decided that I do not have the shelf space to keep them. Please let me know if you have any questions or inquiries.
Photos are of the actual pair in their current condition.
Summary:
Make: Alden
Model: Perforated Tip Cap Toe Balmorals
Last: Hampton
Material: Color #8 Shell Cordovan
Outsole: Single Leather
Condition: Used
Price: $200
Terms and Conditions:
These shoes are in used condition, please refer to the pictures for their actual condition. No returns will be accepted, please know your size! I will only ship within the US. If you are outside that, E-mail me, and I will decide if I am willing to ship to you on a case-by-case basis.
Contents:
Alden Color #8 Shell Cordovan Perforated Tip Cap Toe Balmorals in 11B
Additional shipping fees if located outside of US. Paypal only. Trees are not included.
Pictures:
Have a great day and thank you for your consideration!
-Mike