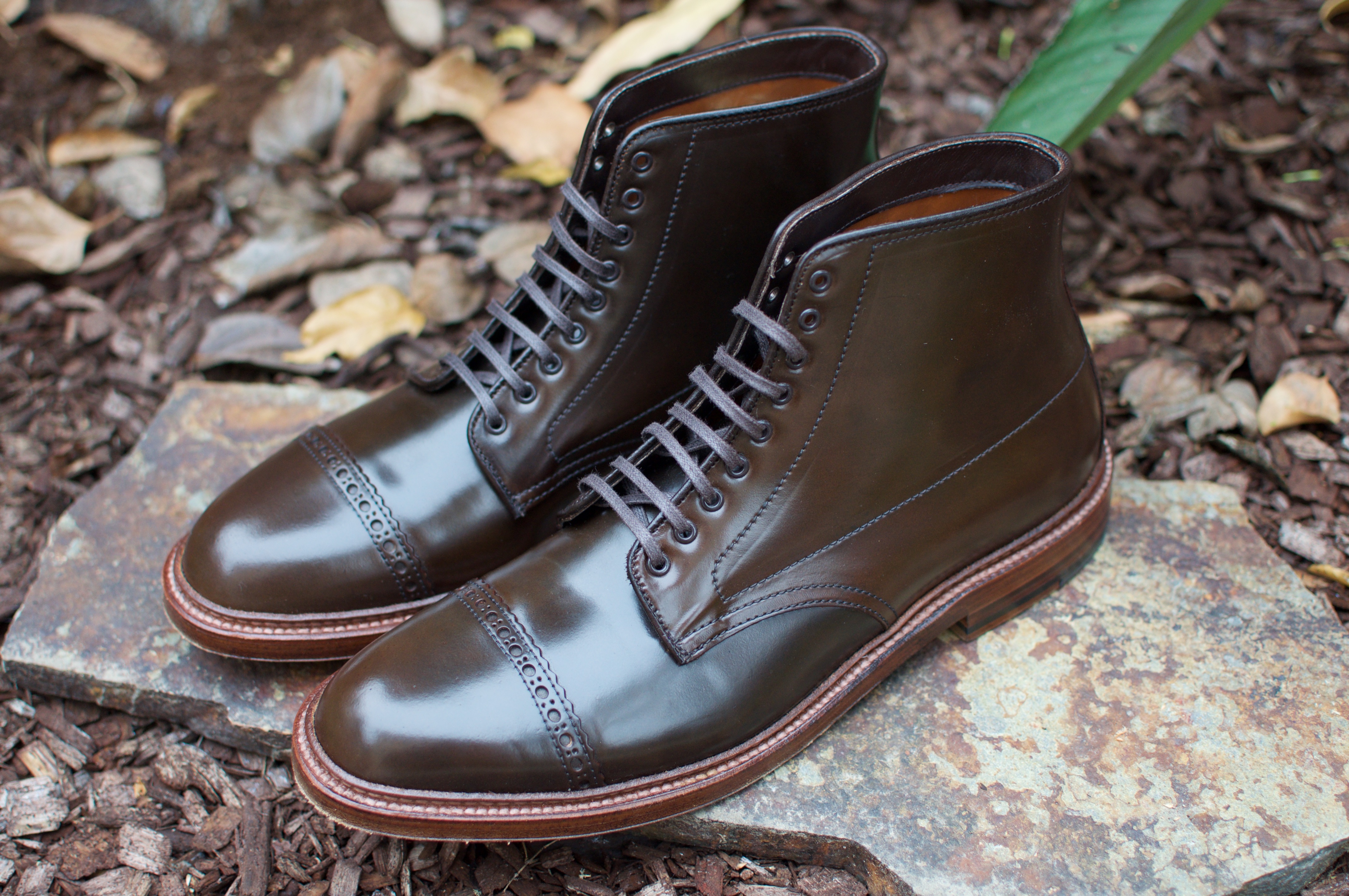 For Sale: Alden Cigar Perf Tip Boot
Gentlemen,
For your consideration, I am selling the special Cigar Shell Cordovan Perforated Tip Cap Toe Boots in size 10.5B, yes "B" as in Benny. These beautiful boots were made in 2017 and feature a truly lovely Cigar color. These boots were specially made for Brick and Mortar in Seattle. These boots were made around Alden's Barrie Last, perfect for boots, which tends to fit larger than True-To-Size (TTS), thus they are recommended for someone who is a 11B TTS. These boots were sold as first quality, and have only been twice times, and are made of the beautiful and versatile Cigar Shell Cordovan and have fitted with the highly coveted Antique Edges to make them truly a beautiful boot. These boots are in superb, but lightly worn condition. I am selling them because I decided that I do not have the shelf space to keep them. Please let me know if you have any questions or inquiries.
Photos are of the actual pair in their current condition.
Summary:
Make: Alden
Model: Perforated Tip Cap Toe Boots
Last: Barrie
Material: Cigar Shell Cordovan
Outsole: Double Leather
Condition: Used
Price: $800
Terms and Conditions:
These shoes are in used condition, please refer to the pictures for their actual condition. No returns will be accepted, please know your size! I will only ship within the US. If you are outside that, E-mail me, and I will decide if I am willing to ship to you on a case-by-case basis.
Additional shipping fees if located outside of US. Paypal only. Trees are not included.
Contents:
Alden Cigar Shell Cordovan Perforated Tip Cap Toe Boots in 10.5B
Alden Original Boot Bags
Alden Original Box
Pictures:
Have a great day and thank you for your consideration!
-Mike