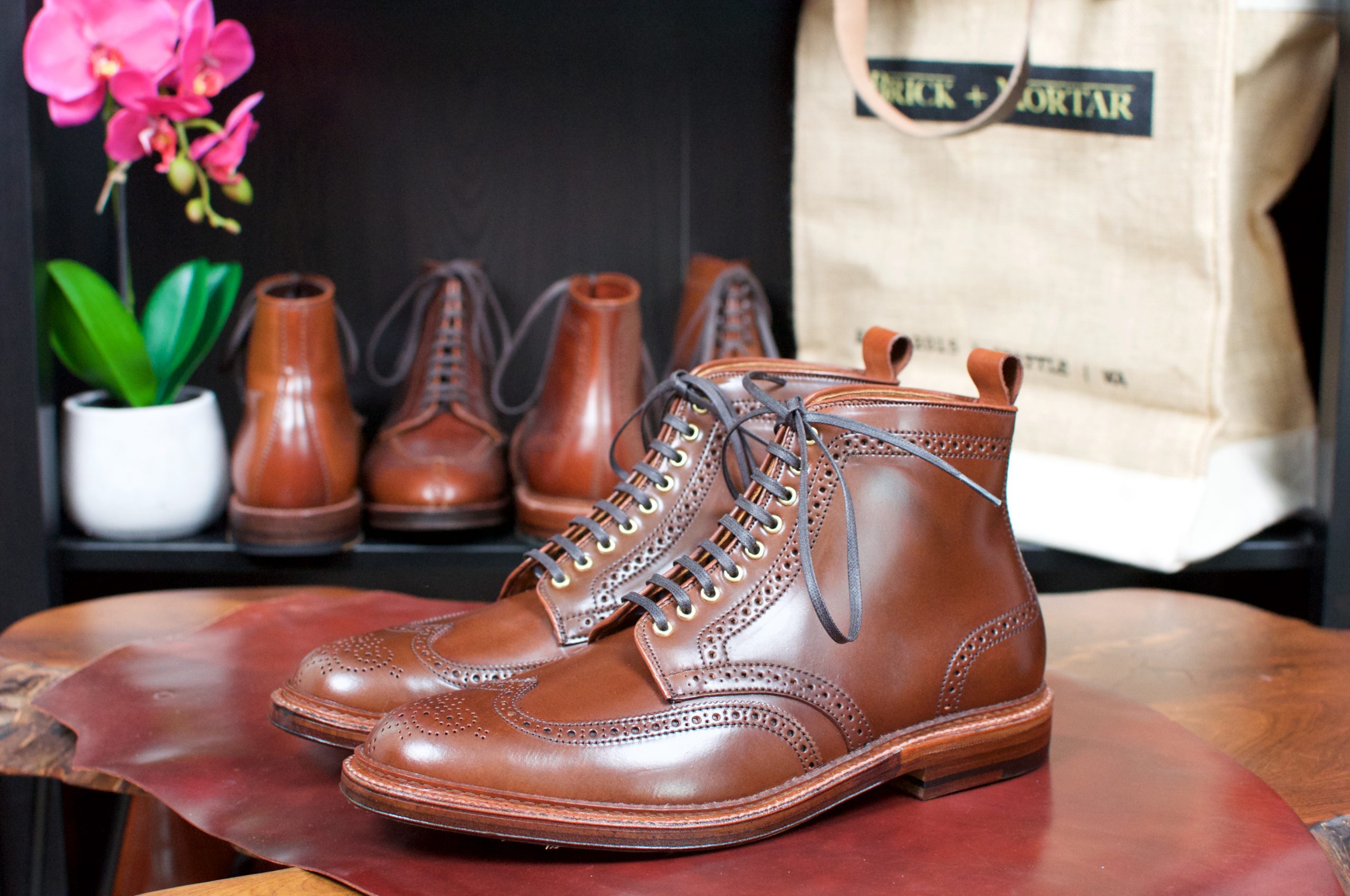 Alden x B+M Brassvello Wingtip Boots
In case you have been living under a rock, you probably are well versed in the Alden shop Brick and Mortar. It is hard to not stare at their site in amazement of all of their drool-worthy make-up.s I met Yenni Song, Brick and Mortar's proprietor, around the 2014 timeframe, back when she worked at J. Gilbert Footwear. Back at J. Gilbert, she really ran their Alden portfolio and offerings. Five years ago, Yenni mustered the courage and started her own shop, Brick and Mortar. Brick and Mortar is an absolutely fantastic shop in downtown Seattle, Washington and is really one of the most fashion forward shops around today. Yenni, focuses on vibrant models utilizing Alden's various Lasts, but loves to utilize the Barrie and Plaza Last. Both are amongst Alden's best lasts for their own reason. I have been fortunate enough to have made it up to her original location twice, once on a business trip, literally a month after she had opened up her shop, and once on a weekend trip with my wife. As amazing and vibrant is Yenni's shoes are, Yenni is. I recall having a great time talking to her like we were old friends, the first time we met. I ordered my Black Shell Cordovan Tassel Loafers on my first trip up there and have gone back to her shop many times for her awesome designs.
In recognition of this monumental milestone, her Fifth Anniversary, Yenni created two absolutely fantastic "sister" models. She made these Ravello Shell Cordovan Wingtip Boots with Brass Hardware and she made the unobtainable Color #4 Shell Cordovan Wingtip Boots with Brass Hardware. Both are truly amazing boots that bring an amazing style and flair. I was fortunate enough to acquire the Ravello Shell Cordovan variant and man am I happy about it!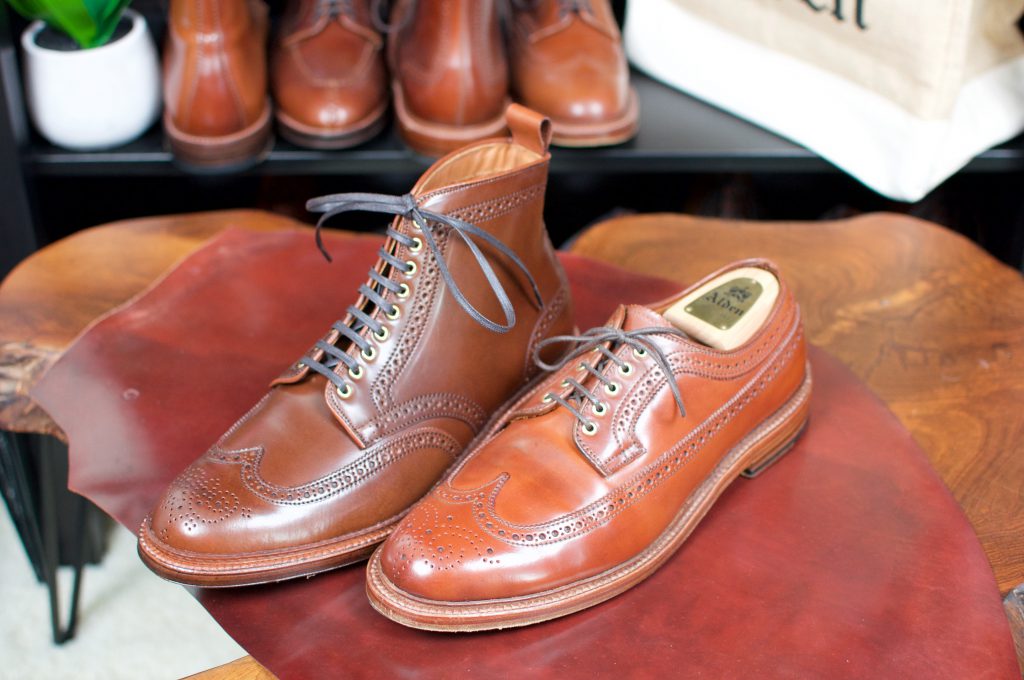 One of my favorite, if not my favorite pairs, in my entire collection is my "Brassvello" LWBs. It is a Ravello Shell Cordovan Longwing Blucher with exposed Brass Eyelets, or Brassvello for short. I love that pair because I love Ravello Shell Cordovan, and the shade of Ravello on that pair is absolutely unstoppable, I absolutely love the Longwing pattern, and I love the play between the Brass eyelets and the abundant broguing on those bluchers. I have dreamed for many years about a Brassvello Boot and finally today, that dream is a reality.
I could not think of a better Brassvello family member to join my happy, but lonely LWB than Alden's Wingtip Boot. Alike the LWB, the Wingtip Boot is made around Alden's famous and generous Barrie Last. Alike the LWB, it has a generous amount of perforations as the Wingtip Boot pattern is covered in broguing. Alike the Brassvello LWB, it has a perfectly aligned row of shiny Brass Eyelets. And finally, alike the LWB, it is made in Alden's most amazing shade of Shell Cordovan, Ravello. The boots are topped of with Alden's amazing Antique "Tan" Antique Edge and has a 360 degree welt. There are playful Pull Tabs on the rear of the shoe and they have Alden's homemade Double Waterlock outsoles.
Overall, these boots are truly something to behold and are truly a great tribute for Yenni's 5th Anniversary.