The Essential Three: Streetwear
This is the third posting in my Essential Three Posts, a short series of posts on the three Aldens that you should get given your typical dress attire.
Although Alden makes absolutely classic dress shoes, their footwear collection can pair with much more than just suits and ties. For this one, I am focusing on streetwear… Essentially, what Aldens to get if you wear a lot of denim. If you are a denim head and your blood is indigo blue, what Aldens would be your go-to pairs? Again, I wanted the selections to be relatively available to be considered for this list, not the absolutely unobtainable.
Like the other Essential Threes, this was not an easy post to write. There are just too many great choices to pick from. Some of the beauty of Alden is that you can pair some of their more formal shoes with denim and create a killer look.
Essential #1: Indy Boot
Its hard to think about Alden and to not think about their famous Indy Boot. The Indy Boot is probably the most classic Boot that Alden makes in the Streetwear category. I am surprised that they don't offer an Indy Boot with a denim stain on it yet. This classic boot features a stitched apron.
I decided to keep this as general as possible and just suggest the Indy Boot and not to specify a material or particular variant.
It is very hard to go wrong with the true classic 403 (Brown CXL) or 405 (calfskin) or you can find a special mix-up of those such as the Ultimate Indy Boot (with the Commando Sole) or the Natural CXL version. It can also be purchased with Brass Eyelets or in Suede/Chamois. Finally, there is always the highly lusted after Shell Cordovan Indy Boot, which features hand stitching on the vamp vice machine stitching of the non-Shell variants.
Alden x LeatherSoul Ultimate Indy Boot.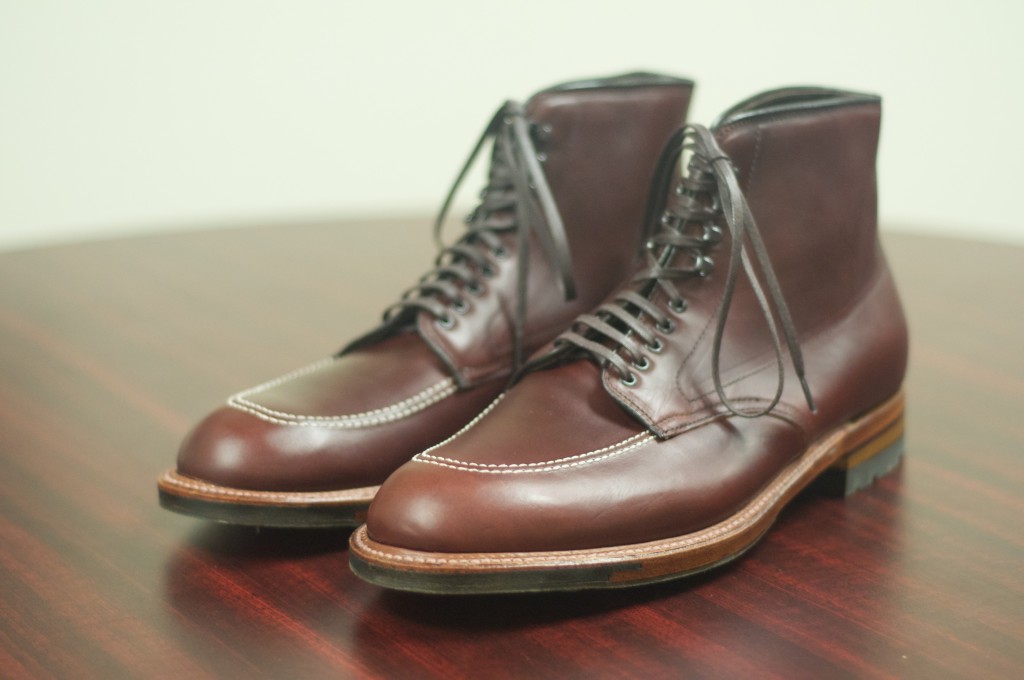 Essential #2: Snuff Suede Wingtip Boot
In my opinion, Alden makes the most balanced wingtip boot of any vendor selling on the market today. Their pattern has the perfect balance. Additionally, Alden offers their Wingtip Boot on various lasts, which can completely change the feel of the boot completely. The sleekness of the Plaza Last versus the presence of the Barrie Last on the Wingtip Boot can completely change the boot. My co-workers describe the Wingtip Boot as "Business up front, party in the back". This makes a great choice for our streetwear collection. However, for this particular recommendation, I wanted to specify the Snuff Suede version. Snuff, a rich, medium brown color of Suede is Alden's most versatile color of Suede.
The Snuff Suede Wingtip Boots are available with a variety of different options from brass eyelets to commando sole to the Plaza sole, so definitely choose your vendor of choice or shop around for the perfect Snuff Suede Wingtip Boot that has the perfect configuration for you. I personally love my Leffot Plaza version, but I tend to favor the Plaza Last.
Alden x LeatherSoul Snuff Suede Wingtip Boots with Brass Eyelets on the Barrie Last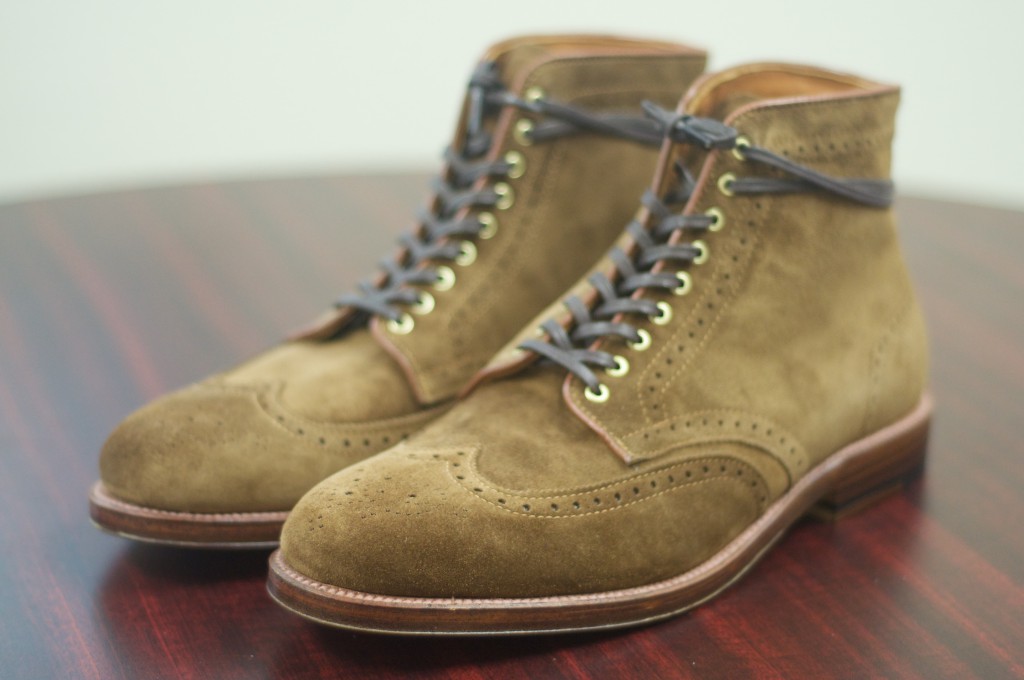 Alden x Leffot Snuff Suede Wingtip Boots on the Plaza Last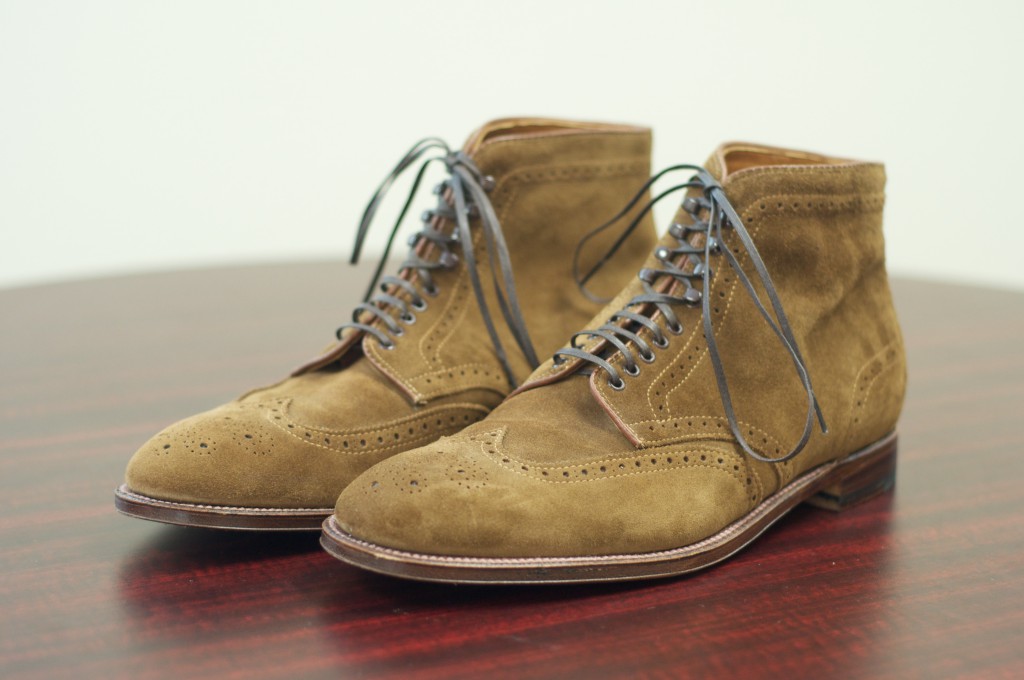 Essential #3: Color #8 Shell Cordovan Longwing Blucher
The Longwing Blucher is probably my favorite Alden design. It just has a magnificent line to it and has just the right amount of bulk to it to provide the perfect sensation of substance. Being made around the Barrie Last and featuring a Split-Reverse Welt, it is an extremely balanced design.
The Color #8 LWB has to be one of Alden's most versatile shoe. The combination of the pattern and the "eggplant" color that is Color #8 makes it an impeccable model that can be paired from almost any attire from a pair of slacks, khakis, non-black suit, or denim.
One of the reasons that I chose to pick this shoe in particular here is the fact that it can take a casual outfit and dress it up. Just toss on your #8 LWBs, jeans, and a sport coat and you are ready to go out to a nice night out. Its pretty cool that you can wear your same pair of shoes to work and then wear it out with jeans.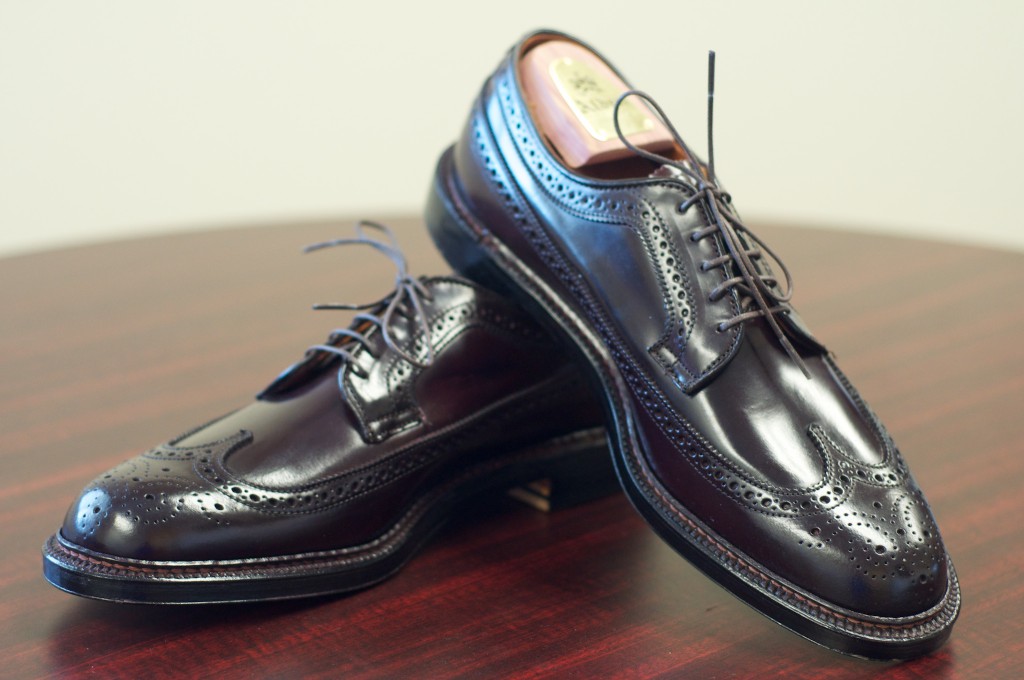 Got your own thoughts or opinions? I would love to hear them and feel free to leave a comment below.