Rancourt Color #4 Shell Cordovan Caribou Boot
I actually had not ever seen Rancourt do, what I have learned is called a skin-stitched pattern before. Skin-stitching is where you simply create a decorative stitch along the surface of the Shell, almost always done in rows of two. When I think of skin-stitching, I think of Alden and their famous Leisure Hand-sewn, their Norwegian Split Toes, and their Shell Cordovan Indy Boots. All of the models that I had seen from Rancourt with their beautiful hand-sewing always was done for the functional purpose of attaching two pieces of leather together, like they do to attach the vamp and plug on their Boat Shoes or to attach the strap on the sides on their Penny-Pinch Loafers. However, one of my friends sent me the below picture that really got my gears turning…
As soon as I saw the picture, I knew EXACTLY what I was going to order… Color #4 Shell Cordovan. Color #4 has a truly remarkable red undertone to it that I knew would pair tremendously well with this pattern and design.
For this model, I followed a lot of the same design queues that I put into my Wingtip Boot. I used the Antique Brass eyelets and hooks and I used the Vibram #430 Outsole with the same welt and natural edge stain. The main customization on this boot was using a currently not offered pattern, their old Caribou Boot pattern.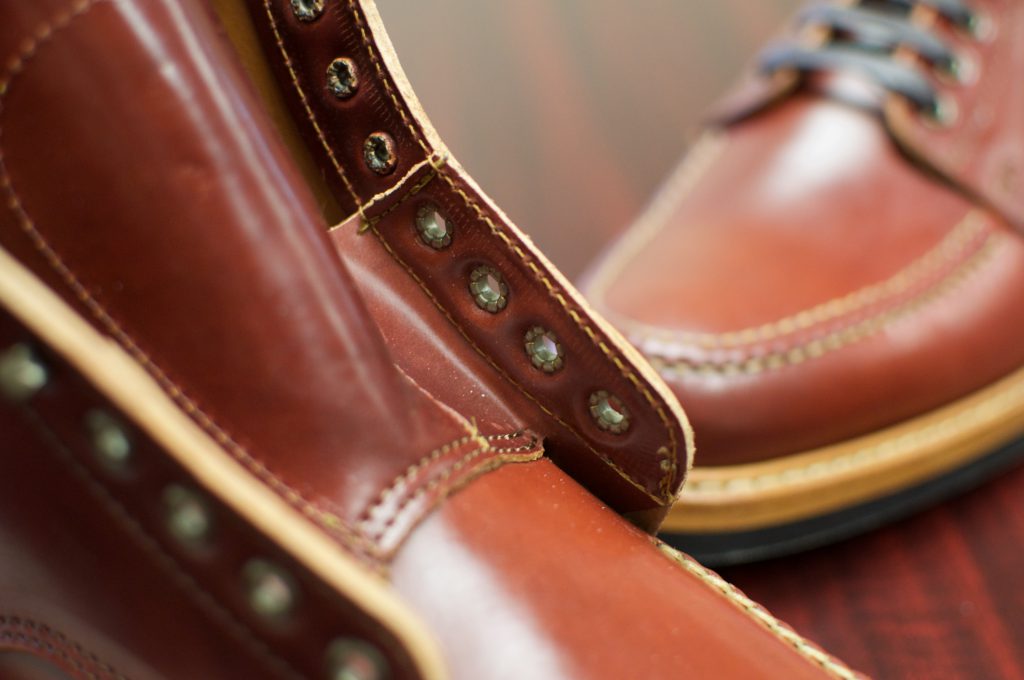 One thing that I didn't realize until I received them is that this pattern comes with a gusset tongue. A gusseted tongue refers to where the tongue is attached to the eyestay, thus helping to keep dirt, water, pebbles of out the inside. It was pretty amazing to see a gusseted tongue made purely out of Shell Cordovan, especially Color #4!
This boot reads somewhere between a Ranger Mocc and an Alden Indy Boot. Its an interesting, but nice combination that of course looks amazing in Horween's Color #4 Shell Cordovan.
Here they are in my inaugural try on, they look even better on the feet!