Rancourt Black Marbled Shell Cordovan Penny Pinch Loafers
In discussing potential designs with Rancourt, much to my surprise, I learned that they happened to have some Marbled Shell Cordovan on hand. I have seen Marbled Shell Cordovan, sometimes called Scuffed Shell Cordovan, through Ashland Leather and Viberg. Marbled Shell Cordovan is made by gently scuffing up the Shells after they are stained, yielding a truly beautiful end product. As soon as I heard that Rancourt had some Marbled Shell Cordovan and specifically Black Marbled Shell Cordovan, I knew that I had to do something special with it!
Black Marbled Shell Cordovan is amongst my favorite of the Marbled Shell Cordovan shades. The contrast between the original Black Shell Cordovan can yield various shades, but typically has a strong green undertone to it with highlights of orange and brown. The contrast is truly something to behold.
After some contemplating, I decided to go with one of my favorite Rancourt patterns, their amazing Penny Pinch Loafer. I thought that it would make a terrific platform to showcase the nuances of this special Shell, but would also include many of the special details that makes Rancourt unique including their exquisite hand-sewing.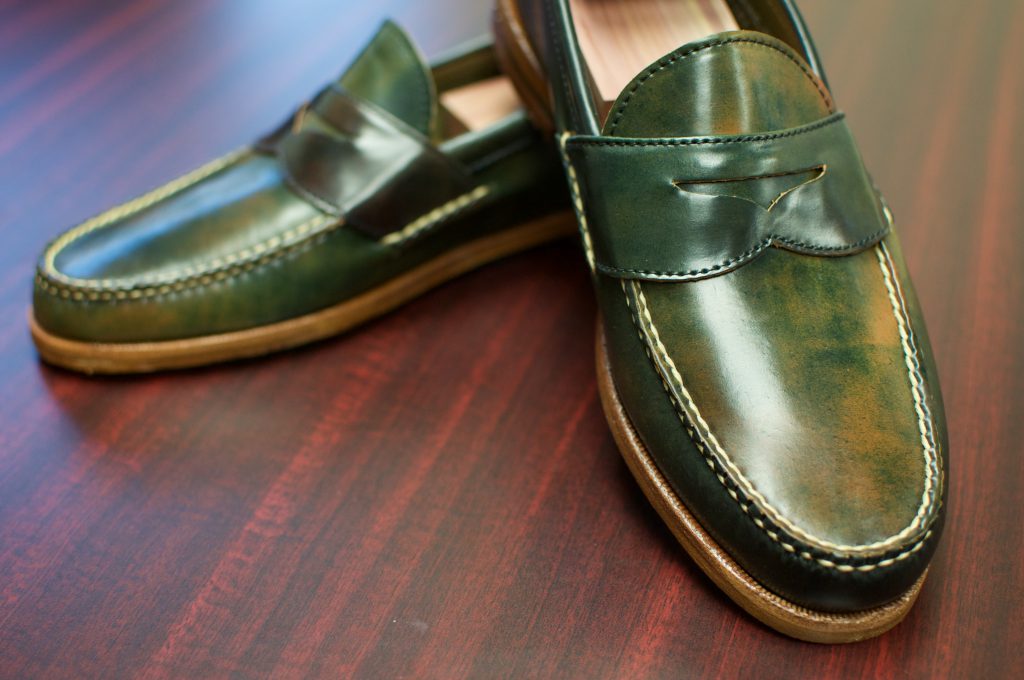 For this model, I went with my now "normal" details, which is the wheeled welt, natural edges, rugby leather sole, and a key heel. I stuck with Rancourt's tan hand-sewn thread as I thought that it would nicely pair with the upper and would help to connect the upper with the antique edge.
It is hard to know exactly how something like this is going to turn out, but dang, they came out far superior than I could have hoped! The upper and the contrast on it is just phenomenal. The upper has a lovely green cast to it, but has a lot of lovely nuances to the material that make these truly special.
These shoes are probably going to be my go-to St. Patrick's Day shoes due to their awesome greencast. Here is from St. Patty's Day 2020.