Extending the Life of a Leather Sole
Alden uses some of the finest leather soles available, the John Rendenbach Oak-Leather soles. J. Redndenbach has been making the same fine leather soles since 1871. Their soles are tanned in oak bark for 9 to 12 months. Their soles are hard and can last a long time, but with frequent wear and inclement weather conditions, they can wear out quicker than I prefer. For me, I particularly tend to wear out the front tip of the sole quickly.
An Alden Leather Sole on the Ravello NST Boot.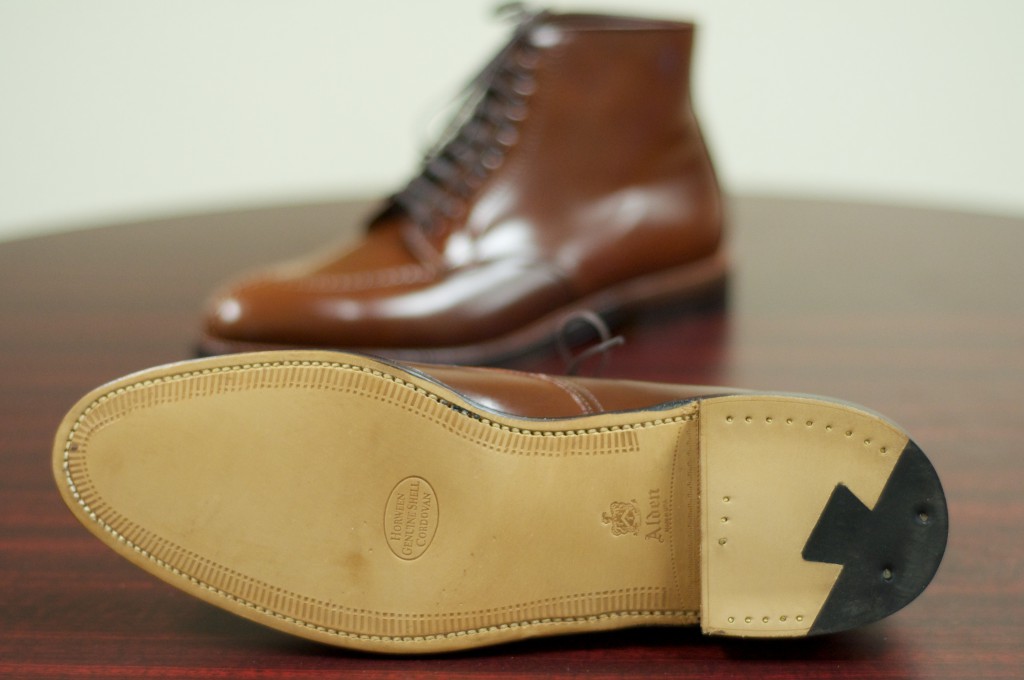 By protecting the sole, one can greatly extend the life of the shoe. Yes, Alden's can be resoled and have a new sole installed on the shoe, however, this process is strenuous on the shoe. Frequently when the shoe is restored, the welt, which is a durable and flexible piece of leather that attaches the sole to the shoe, needs to be replaced. Doing such, requires re-attaching the welt to the upper, which adds more holes into the bottom of the upper and after a few re-soles, the uppers typically can't take it anymore and can no longer be resoled. Most cobblers will try and re-use a welt as many times as possible for this reason.
There are a two main options for protecting the soles and thus extending their life. The first is to put taps on the shoes and the second is to sole guard the shoe.
Taps come in two types, flush taps and protruding taps. As their names imply, flush taps are made to be flush with the sole whereas protruding taps are mounted on the surface and protrude out of the sole. I typically associate flush taps with metal. They are typically metal, because they aren't easily replaceable and you want them to last a long time. There are trade-offs when going with metal taps. Metal taps are very strong and will last a very long time, however, they can scratch hard surfaces and can be loud if walking on a hard surface. If you do a lot of side-walk or tile floor walking, you may want to consider something else. Also, they could potentially damage hardware floors or softer tile floors. My office building has a lot of tile floors and I have hardwood at home, so metal taps have never seemed like a good option to me. The alternative to flush taps, are taps that protrude out. These can come in metal and plastic taps. Most people who go with protruding taps, go with plastic ones. Plastic taps do not last forever, but they can be pretty easily replaced and they don't have some of the cons (such as scratching or clicking) that metal taps have.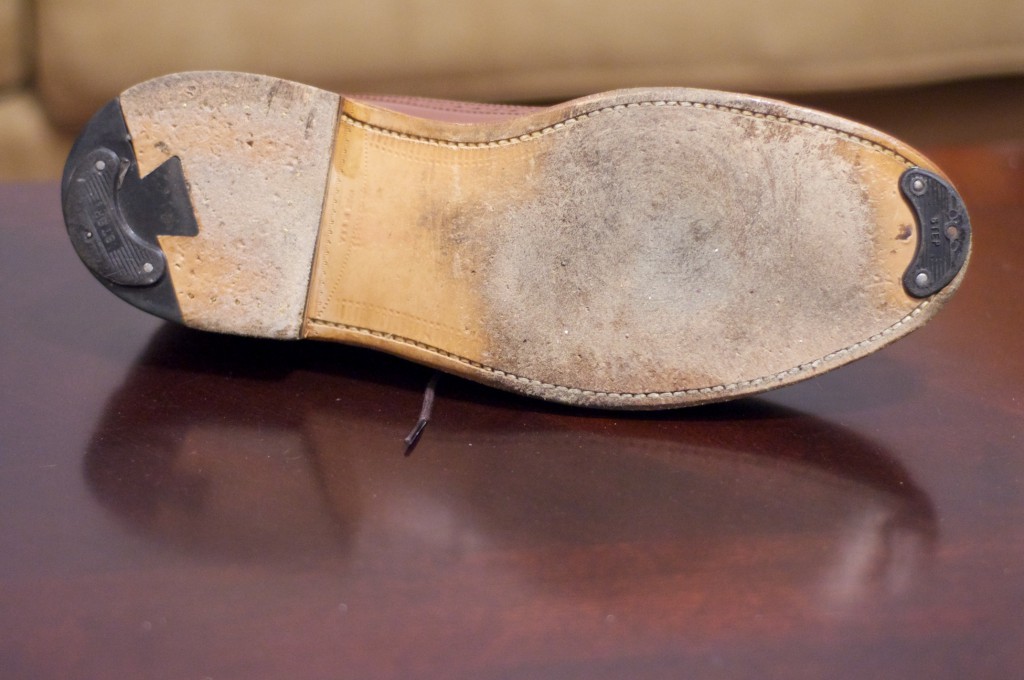 The second option, and my preferred option, is to have a sole guard applied to the shoe. A sole guard is a piece of rubber that covers the front portion of the sole. For an example of a sole guard, pictured below is a Color 8 Leisure Hand-Sewn with a Vibram sole guard applied. By adding a sole guard onto your leather soles, you are now wearing down the rubber sole guard instead of the leather. Additionally, the sole guard will provide additional traction in inclement weather (not a big concern in San Diego). When the sole guard is sufficiently worn down, they can be replaced. The main con, in my opinion to a sole guard, is that it doesn't look quite as sexy as a leather sole does, however to me, it is barely discernible. Some have said that they don't like the feel as much, but the feel doesn't bother me at all.
A Vibram sole guard was added to my Alden x Brooks Brothers Color 8 Leisure Hand-Sewn Penny Loafers. Mine was installed by my local cobbler, San Marcos Boot Shop.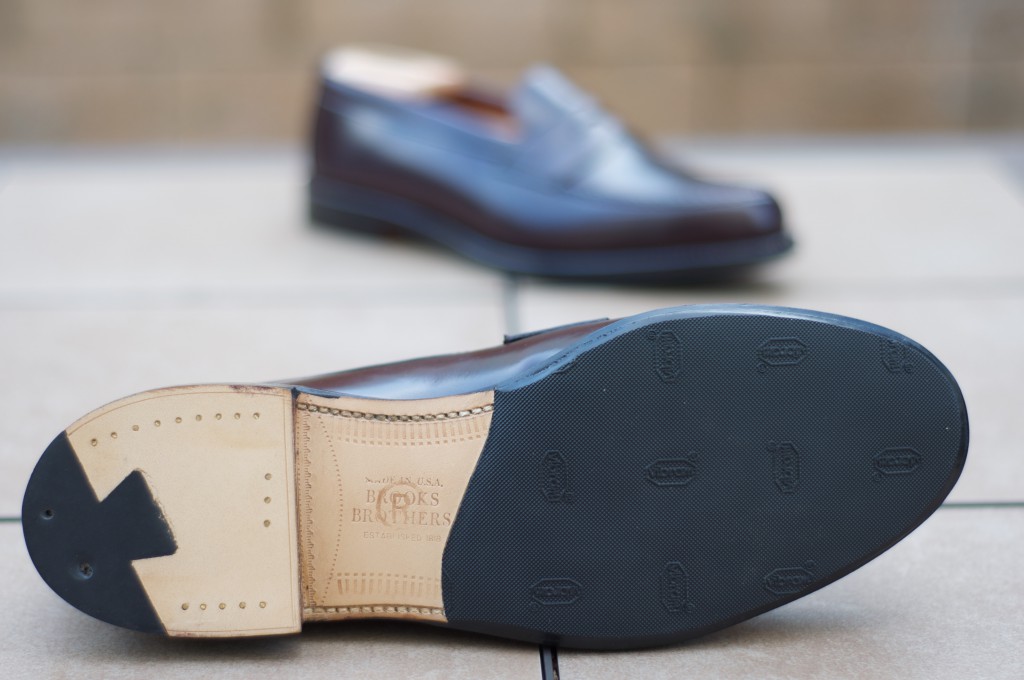 A profile shot of the sole guard. A well installed sole guard can be installed such that it is barely noticeable from the direct side and impossible to notice under normal circumstances.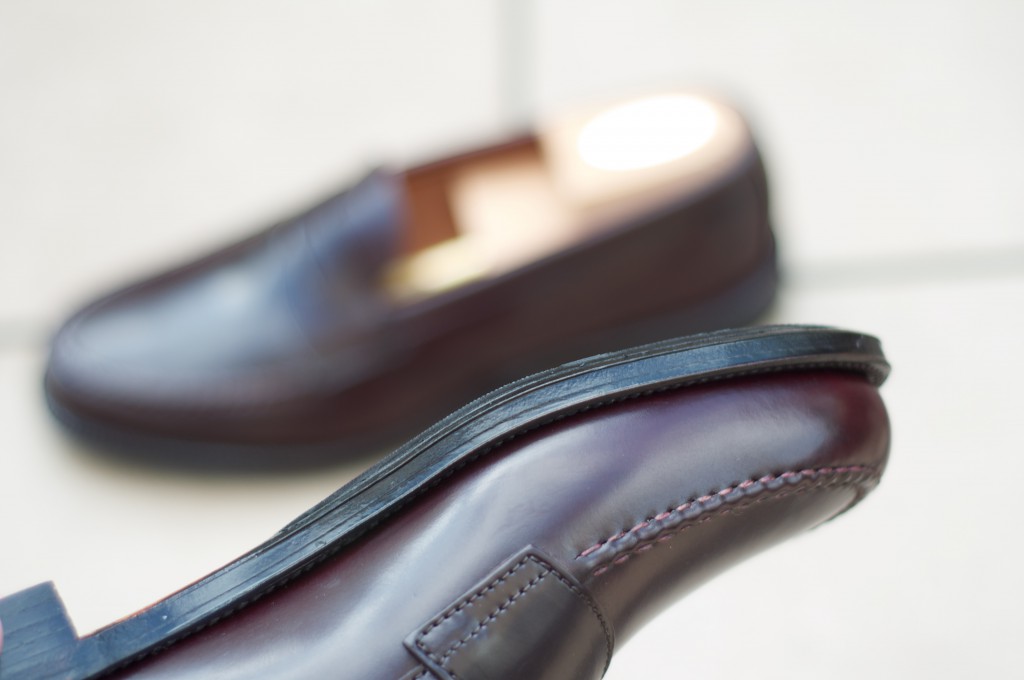 Finally, I wanted to mention that the heel stack of the shoe can be fairly easily replaced by a competent cobbler, thus, if you have no worn through the entire heel stack, you can have them replaced. I had the heel stack of my Color 8 Perforated Tip Balmorals replaced by Ah One in Springfield, VA.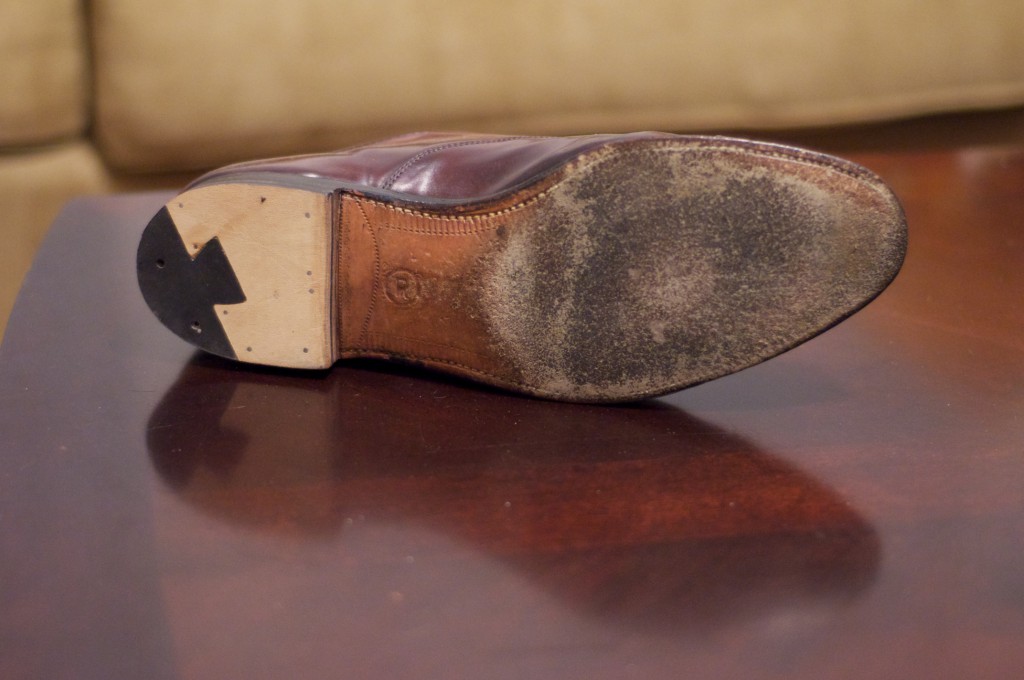 Frankly, after trying out toe taps and sole guards, I plan to install a sole guards on my leather soled shoes.
Here is a video on how J. Rendenbach makes their soles.