Brooks Brothers Unlined Shell Cordovan Penny Loafer
I have long been lusting after a beautiful pair of Alden's highly coveted Alden for Brooks Brothers Unlined Color #8 Shell Cordovan Penny Loafers. I have actually owned this shoe in the past, but sold it because it was a 10D and I really need a 10C and I had not yet found acceptable shoe insole inserts.
About a week ago, I received a tip, that Brooks Brothers had a 10D in stock, I immediately jumped all over it, thinking that I had scored the pair that I have been long lusting for.
Unfortunately, when I got to the local FedEx office to pick them up, I knew immediately that something was wrong by the packaging of the loafers. Upon checking the URL that I purchased them from, that depicts the Alden pair, I noticed one tiny, but key change to the description field on the old Alden x Brooks Brothers page. They now have this "or Italy" statement appended to the end of the description.
That subtle change apparently can make all the difference in the world.
Without further ado, here are the Dark Red Shell Cordovan Penny Loafer that I received.
Upon initial inspection, the Penny Loafers are actually really nicely done overall. I personally prefer the hand stitching that Alden does over the hand stitch work on these (mainly because Alden pulls out the leather a little more to create the "ridge" or "bump" that we have all come to love. The new Brooks model also has a noticeably larger stitch around the apron of their shoe. I really like the tighter, more precise feeling, stitch that Alden does.
Upon reflecting upon these shoes a little bit more and comparing against my original pair of Unlined Color #8 Shell Cordovan from 2013, seen below here, I came to a fairly astounding hypothesis…
This hypothesis is that the new Brooks Brothers from Italy Shell Cordovan Loafers and probably entire collection of Shoes are not made from Horween Shell Cordovan. This hypothesis is based upon a few facts and prior conversations with shoe vendors. First, if you look at my Alden Unlined Penny Loafers and particularly look at the back of the Unlined Shell Cordovan, you will not that the Shell Cordovan has a fairly medium tan color. I have seen hundreds of Horween Shells either online, in stores, and on my shoes and Color #8 Shell Cordovan from Horween always has this medium tan color at the lightest. This is due to Horween's tanning and dying processes. The pair that I received from Brooks Brothers, has a significantly lighter internal color.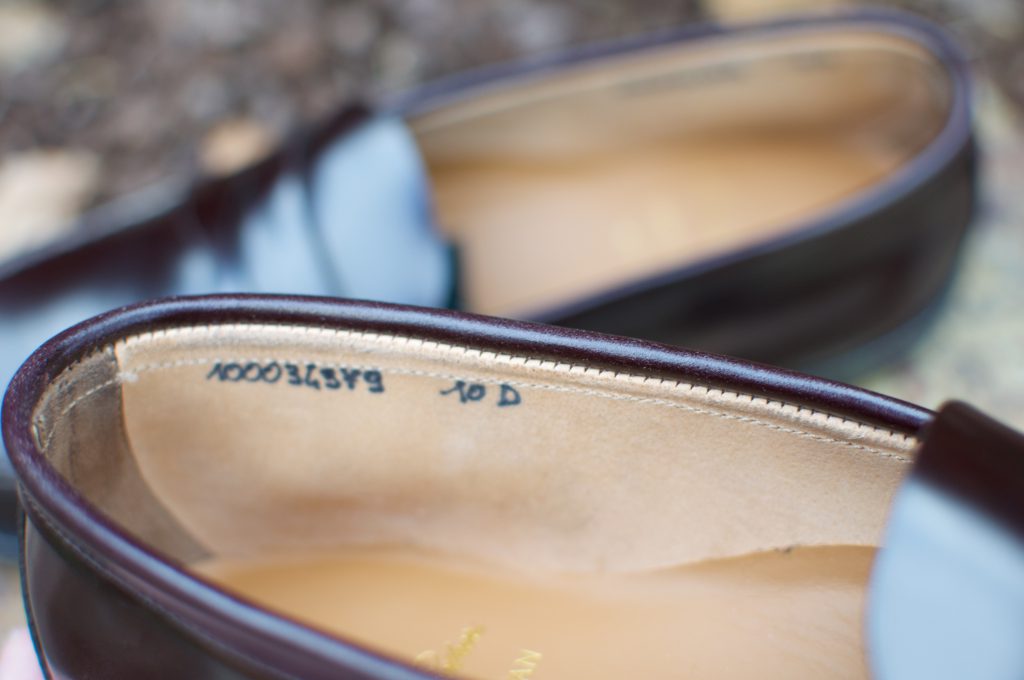 If you compare this picture of the new Brooks shoe with the older Alden for Brooks, you can see the color differential that I am referring to. This shoe is this shade throughout the interior, except for near the very front of the toe, where there is some sort of white hardening agent applied to the toe area. I would argue that this material looks much more like the offerings of cordovan.co.
The other reason that I believe that these would not be made out of Horween Shell Cordovan is simple, but pretty logical. Horween is in Chicago. These shoes are produced in Italy. There are other Shell Cordovan tanneries, such as Compiel, Rocado, and Maryam located in Italy. In prior conversations with other vendors, who have produced shoes in Europe, I have learned that is significantly more expensive to have Horween Shell Cordovan imported into Europe (UK may be different) than it is to source the materials from Europe. This would drive a huge economic motivation for the Italian factory and Brooks Brothers to just utilize the local Italian Shell Cordovan.
However, my shoes do not show any stamps and thus it is very hard to be 100% certain of this theory.
Overall, these shoes are a nicely made penny loafer. It looks like Brooks Brothers and their partner factory in Italy have done their homework. These are beautiful shoes that are nicely made. They feature the desired Goodyear Welt and are made from Unlined Shell Cordovan. Too bad it appears to not be Horween Shell Cordovan, but other vendors do made some pretty nice Shell Cordovan.
In conclusion, for your visual entertainment, here are some comparison pictures with the pair next to my current 986 (Lined Color #8 Shell Cordovan LHS – for color and shape Comparison) and my current Alden for Brooks Brothers Unlined Black Shell Cordovan LHS (for shape comparison)
Unfortunately, my new "Italian" Unlined Penny Loafer came with a flaw, having a cut in the Strap and some shoddy finishing on the throat of the shoe.