Alden x JCrew Snuff and Color #8 Saddle Shoe
To be honest, I have not always been all that into Saddle Shoes. I always thought that they looked far too preppy and required you to have a sweater tied over your shoulders in order to wear them. Then, a few years ago, I saw these guys posted up on StyleForum. These completely changed my attitude towards the Saddle Shoe and I even went out out bought the Alden x Blackbird Black Grain and Color 8 Saddle Shoe that ended up landing at Alden of Washington D.C. I patiently waited for Leffot, JCrew, Epaulet, or somebody to do another run of these beautiful shoes. Unfortunately, we have been told, that under updated guidelines from Alden, these are no longer going to be possible to make. I was pretty bummed about that. Then, to my excitement, along came this pair on the eBay, so I determined the amount I would pay for them, bid and lost. Coincidentally, a friend won them and then decided to not keep them. So, now after several years of patiently waiting and then losing the auction on one of the few pairs in my size, they ended up making it into my collection.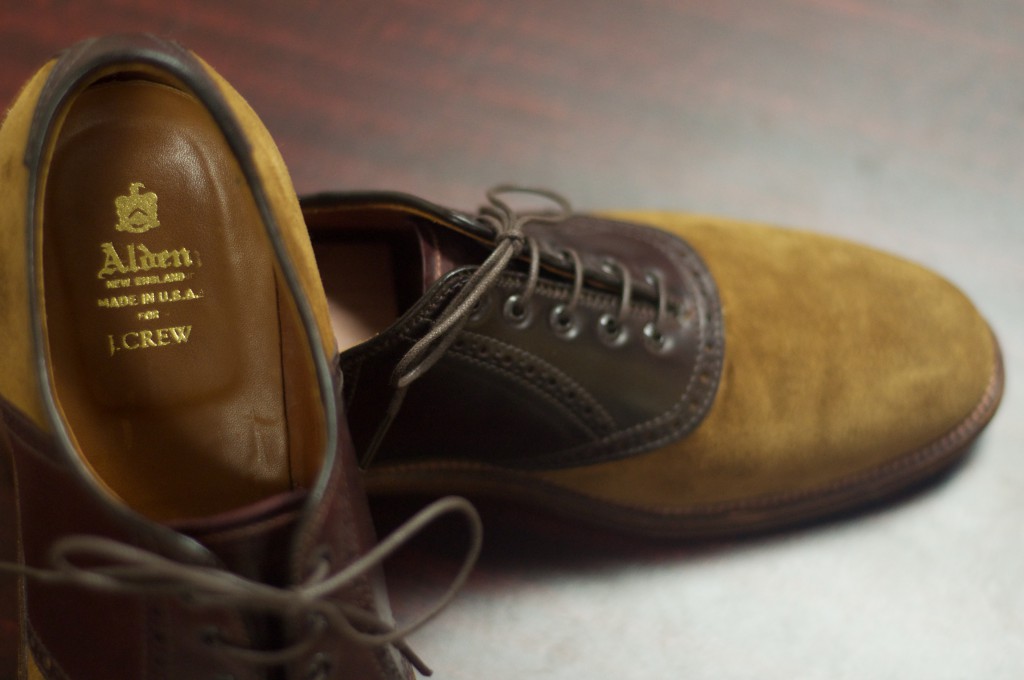 Enough on the story side, these beautiful saddles are made of a nice and rich Snuff Suede Color as the base material and feature Color 8 Shell Cordovan on the Quarter and Back. The combination is absolutely superb. They have exposed matching eyelets and antique edges on a double leather outsole. This pair is in almost perfect condition.
And now for the pictures…