Alden x B+M Tan Country Calf Longwing Blucher
Well, I think anyone who knows me, knows that I am an absolute sucker for Longwing Bluchers. Between their playful amount of perforations running from head to hoof of the shoe, to their classical sense and style, it is not hard to love them. Last year, I sadly decided that I had to sell my custom Ron Rider Cognac Grain Shell Cordovan LWBs due to fit issues and thought that these would be a suitable replacement for them. This is also the first "special makeup" that I purchased from Yenni at Brick and Mortar Seattle. But do not worry, they have several B+M cousins on the way shortly.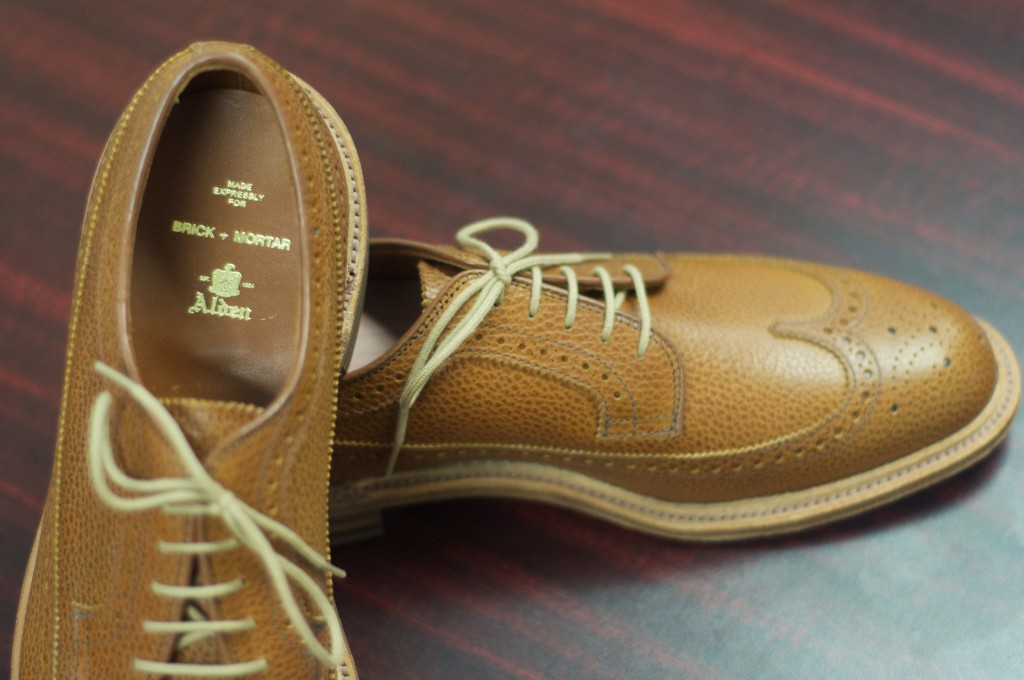 A lot of the styling cues for this LWB actually flow from the Alden of Carmel 20/20 Color #2 LWB. The welt and sole edges are natural (not antique). The outsole is a thick, single, oiled outsole which we refer to as a 1.5 sole. Additionally, for the 20/20 shoe, Adam asked for no staining to be applied at the factory, so the leather was left in the natural matte finish as it came from the tannery with. Likewise, these Tan Country Calfs were ordered with no additional finishing to be applied, making for a lighter, non-stained/non-darkened state, which gives the shoes a nice "fresh" appearance.
To be honest, I was pretty nervous about the Tan Country Calf. I essentially ordered these shoes sight unseen on this newer material. I was afraid that the details of the brogues would be lost due to the grain. Fortunately, these fears were unfounded. The features of the shoe play very nicely into the Tan color and the Country Calf grain does not detract from the perforations on the shoe or the medallion on the toe.
Overall, this is a beautiful shoe with a nice balance to its design.