Alden x B+M Ravello Shell Cordovan V-Tip Boot
I got to say, this is one article that I never thought that I would ever be writing. First, Alden had decided to not made the V-Tip pattern on a boot form, leaving it exclusively to bluchers. Second, I candidly wasn't the world's biggest fan of the V-Tip blucher pattern. Finally, it is Ravello Shell Cordovan, probably Alden's most evasive shade of Shell Cordovan. Amazing how things can sometimes just come together!
First and probably most importantly, Alden recently decided to allow the V-Tip pattern to be made on Boots. This made this design completely feasible. Although I still am not a big fan of the V-Tip blucher, I knew that I had made the right choice to get these, when I saw the fairly recent run fo V-Tip Boots in Color #8 Shell Cordovan from Ealdwine, as those just looked absolutely exquisite! Finally, Yenni has been blessed to get two allocations of Ravello Shell Cordovan this year, her first model was the Anniversary Boot or what I like to call the Brassvello Boot and now, these are her second Ravello masterpiece of 2020.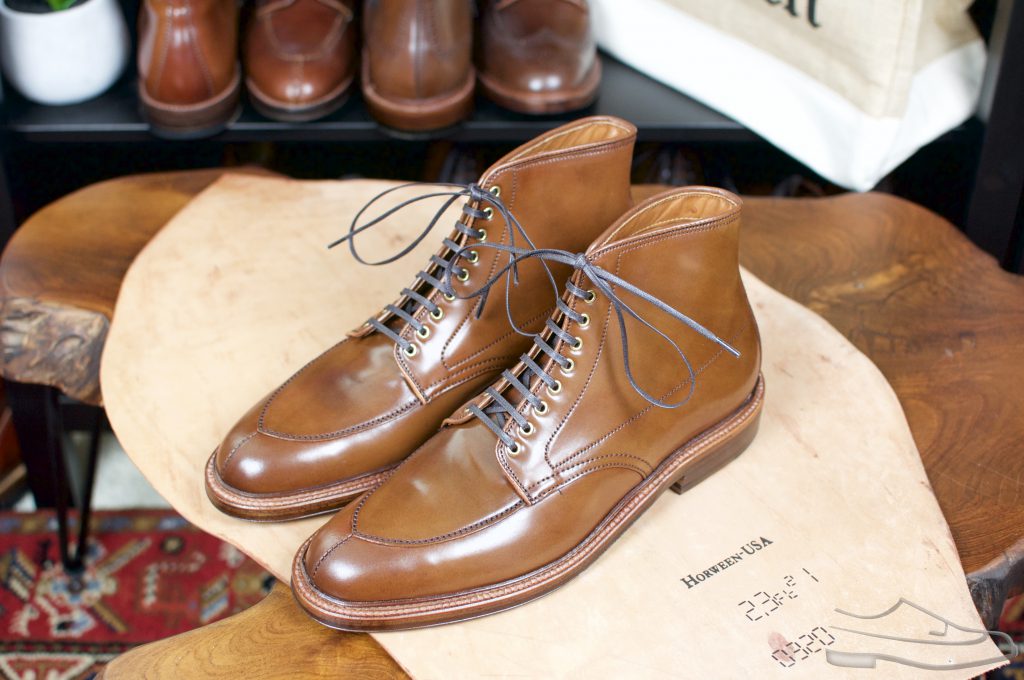 The V-Tip pattern is actually fairly unique for Alden, as the construction of the upper is actually the merging of 3 separate pieces of Shell Cordovan at the toe. The inner and outer portions of the vamp and the plug of this boot is actually three separate pieces of leather that has been sewn together by some careful machine stitching, similar to how the toe is done on Edward Green's famous Dovers. The front toe stitch appears that the actual sewing is done on the reverse side of the Shell and the plug is carefully attached to the sides on top with a tight double stitch design. This implementation varies slightly from the "pie crust" style implemented by Edward Green. Both designs offer quite a nice aesthetic.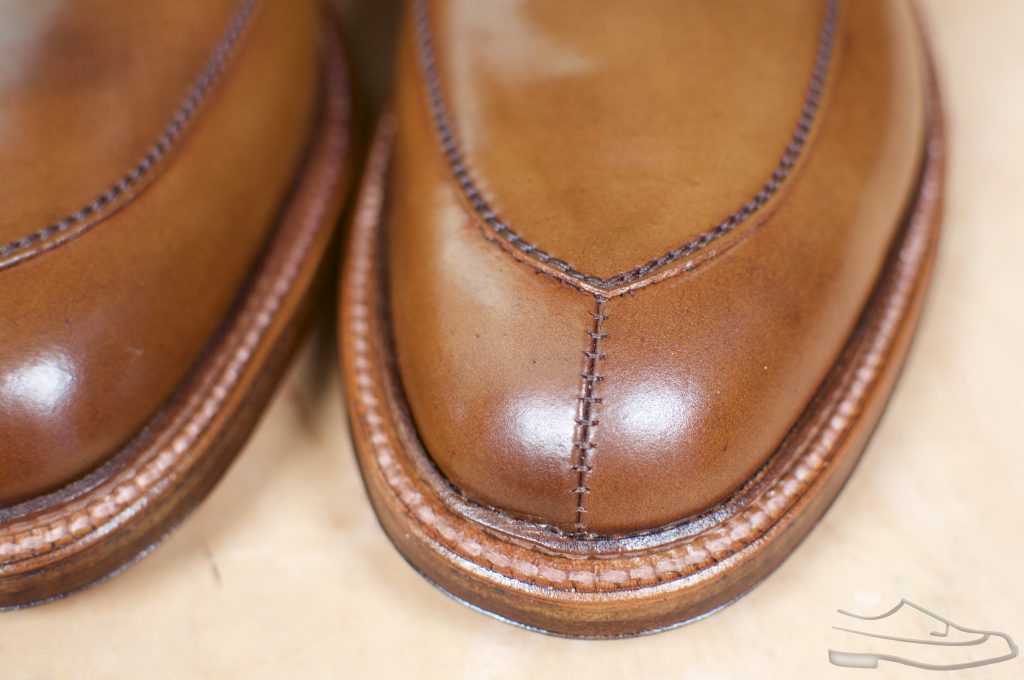 These exquisite Ravello Boots were adorned with Alden's Pre-Stitched Reverse Welt and features their famous Tan "Antique" Edges for the perfect pairing with the lovely rich red-brown Ravello shade. These boots are playfully complimented with Brass Eyelets to create an amazing and stylish boot. Yenni appointed these with Alden's home made Double Waterlock outsole which features two stacked oiled leather soles. The side of these boots were designed and made with the Indy Boot side stitch, helping to draw the eye along the double stitched attached apron to the back of the shoe. These design elements come together to form one of the nicest pair of Aldens ever made!
I had to compare and contrast these exquisite boots with their anniversary Brassvello bretheren.