Alden Whiskey Plain Toe Boot
You may or may not notice, but I actually do not have a ton of Plain Toe Boots. I have not always been the largest fan of Plain Toe Boots in general because of the amount that they show creases. However, I have come more and more to appreciate the way that the Plain Toe Boots showcase the Shell Cordovan. I have long thought that the Chukka Boot was the ultimate show piece for a lovely Shell, but between my collection of Plain Toe Boots, I am starting to reconsider.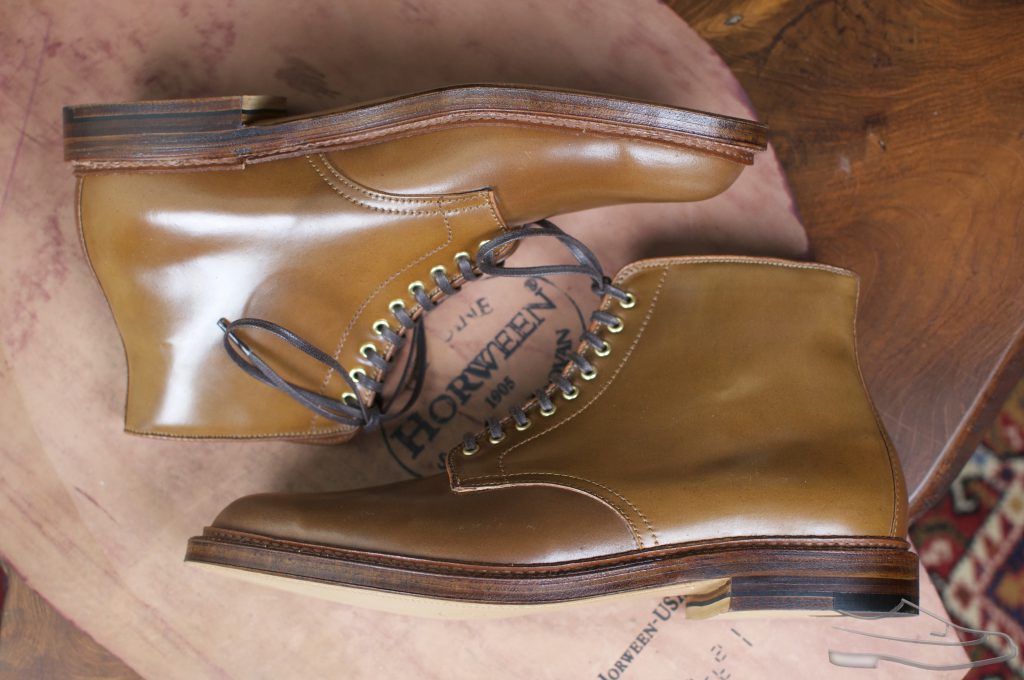 These Plain Toe Boots are made out of Alden's modern Whiskey Shell Cordovan, which I am to understand is actually Horween's newer shade of Bourbon Shell Cordovan. Well, I guess it is good that all Bourbons are technically Whiskey. Regardless of the name, it is a remarkable light tan-ish shade of Shell Cordovan. It is close to the true natural shade of the Shell Cordovan, but has enough color added to it to help control the color over time.
These Boots feature a clean and simple Plain Toe design that is simply striking in the Whiskey Shell color. The Whiskey shade is brightened up some by the inclusion of all Brass Eyelets on these boots. These boots were formed around Alden's classic Barrie Last, providing a nice shape that is forgiving in terms of feel. The Boots were completed with a Double Leather Outsole that is engulfed by a beautiful Antique Edge to pair nicely with the upper. The sole is attached to the upper using a 360 degree Pre-Stitched Reverse Welt, providing the perfect look and feel.
Overall, this boot comes together to create a truly cool aesthetic that is going to be the perfect pairing for a semi-formal, semi-casual environment for years to come!
Here are these Whiskey Plain Toe Boots next to my other two Plain Toe Boots in Color #4 and Black Shell Cordovan.