Alden Ravello Tanker Boot
For those not familiar with the terminology, the Tanker is Alden's Norwegian Split Toe Boot made around one of their "chunkier" lasts including the Trubalance, Barrie and the 379x Last. The original Tanker Boot was a 379x Lasted NST made for the Lakota House in Japan. The name has since stuck. The Tanker Boot combines the elegance of Alden's NST pattern with the beefiness of their heavier duty lasts, combining to make just one exquisitely balanced model. There are few boots that top Alden's Tanker Boot.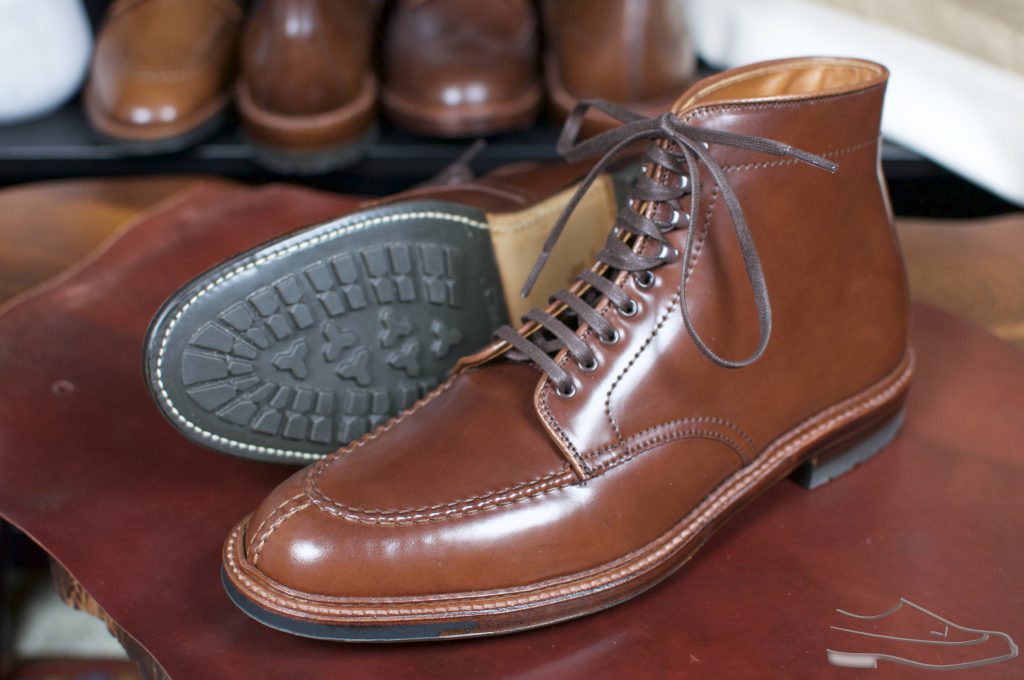 This Tanker Boot, made by the Alden Shop in downtown San Francisco, is made out of Alden's most exceptional, and exclusive shade of Shell Cordovan, Ravello. Ravello is a rich shade of Medium Brown with lovely Red Undertones. This pair comes from the later 2021 batches of Ravello and features one of the nicest shades of Ravello that I have seen in quite a while.
This Ravello Tanker was made with exquisite attention to detail. It features Alden's superb hand-stitching around the apron on the vamp and, as the name implies, has the same hand-stitching down the toe. This Tanker Boot is accompanied with Alden's heavy duty, Commando Outsoles and has a 360 degree Pre-Stitched Reverse Welt. These boots feature the always convenient speed hooks.
Overall, these Tanker Boots are everything that you could want out of a Ravello Shell Cordovan make-up: an iconic pattern, lovely Ravello shade, and details that put these boots at the top of their class.
Here are these Ravello Tanker Boots compared to my other Ravello NST Boots. From Left to Right, they are the Ravello NST Boot on Aberdeen from 2014, these Ravello Tankers (on Barrie) from 2021, and the Ravello NST Boots on Plaza from earlier in 2021.
Finally, here are these Ravello Tanker Boots compared to the Color #4 Tanker Boots that I got earlier this year.