Alden Ravello Indy Boot
It is hard to think of a boot made by Alden that is more iconic than the Indy Boot. It is known for being the boot of choice of Harrison Ford, the star of Indiana Jones. He wore them across the Indy series and an American icon was born.
The Indy Boot is beautiful boot that is most recognized for its stitching along the apron of the boot. On their standard Indy Boots, such as the 403 and 405, those are machine stitched onto the upper. However, on their Shell Cordovan offerings, Art Tarlow insists that it requires the extra attention to detail by only offering them with hand-stitching. The other thing that truly identifies an Indy Boot is being made on the Trubalance Last. The classic Indy Boots are all offered around Alden's friendly and anatomical Last. This is why Harrison loved these boots so much.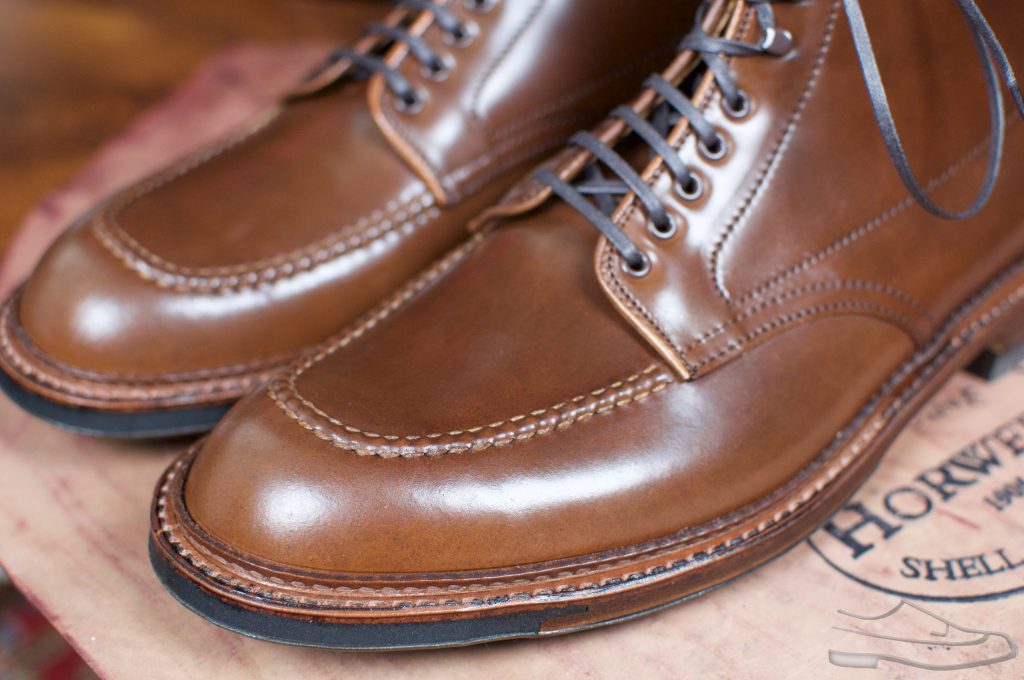 One would think that an Ravello Indy Boot would have been made frequently in the past. But the unique and special thing about Alden is that things aren't always what one would assume. I have been following and purchasing Aldens for nearly a decade and during that time, I have never seen a Ravello Indy Boot made. My friend managed to find one variant made, many years ago, by an European retailer who made them on the Plantation Crepe outsole. But of all of the vendors who have gotten Ravello Shell Cordovan allocations in the past 10 years, it is interesting that this wasn't a top model to make. Candidly, upon thinking about it for a minute, I do not know why and honestly, this run will likely change that, but it is a pretty interesting phenomena.
These Ravello Indy's were made by my friends at The Shoe Mart. As stated previously, these are a proper Indy Boot, made around Alden's Trubalance Last. They feature an exquisite shade of Horween's Ravello Shell Cordovan, a rich brown color featuring an amazing red undertone. This boot features matching hardware and Alden's Indy side stitch on the quarters. The boot is ruggedized with Alden's Commando outsole and adorned with lovely Tan "Antique" edges. The welt is Alden's pre-stitched reverse welt that goes all 360 degrees around the boot. These details all come together to make the absolute perfect Ravello Indy.
As stated earlier, I expect these boots to kick-start the Ravello Indy Boot. Something that should and will be desired by any Alden fan out there!