Alden Milkshake Suede Indy
I remember seeing the Milkshake Suede Indy Boots made by Epaulet probably around 10 years ago and thinking, wow, those are really cool, but I don't think those are my style. I guess I was afraid of the lighter suede. At the time, I was dressing more formal at work, so I guess that made sense. But I always really liked the styling of the boots and had to jump when I heard LaRossa was doing another run of them.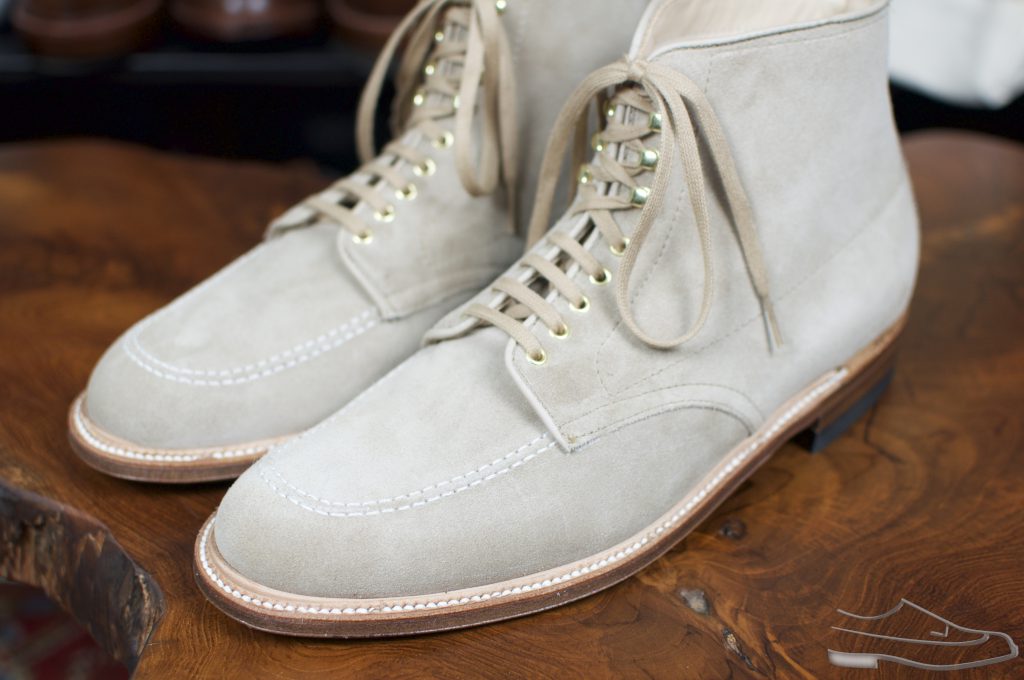 The past year or so has been anything but normal and I think it has had quite an impact on the fashion in terms of level of formality expected. In my job 5 years ago, I don't think that I could get away with wearing a nice piece of denim to work, but today I can wear them almost any day. Time will tell if things re-adjust back, but in the mean time, I am going to enjoy these knockout 'shakes.
The Milkshake Suede color is a really beautiful color. It is not a pure ivory white, but still has a little yellow/cream living in it. It is probably close to halfway between Alden's Tan Suede (sometimes called Sand Suede) and their White Suede (sometimes called Ivory Suede). It is a pretty interesting shade of Suede. It isn't the easiest to pair or the most versatile, but dang it is beautiful. And this boot is no exception. The details on this are nailed to the 'T'.
These Boots are Alden's classic "Indy Boot" pattern with the stitching along the apron of the vamp and are made around Alden's very generous Trubalance Last. As a more casual suede model, the stitching is machine stitched for a slightly leaner look vice Alden's lovely hand-stitching that has a more aggressive look to it. These boots use Alden's home made oil soaked outsoles, which provide superior wet performance while still maintaining a cleaner look, and feature the Indy's famous Thomas Heel. A Thomas Heel isn't straight in the front, but rather curves like an 'S' in order to provide better inner arch support. The oil-soaked outsole is adorned with Unfinished edges and Alden used their natural Storm Welt on these. The Storm Welt only goes 270 degrees around the boot and has a closed heel. The interior is lined with a lovely cream colored lining, nicely complementing the exterior of these boots. Finally, the boots come with beautiful polished brass eyelets and speed hooks adding a true sense of style to these already exquisite boots.
Overall, these Milkshake Indys are about as good as it gets…