Alden "Foxy" Cigar Tassel
Alden, the inventor of the modern tassel loafer, has always had a special version of their Tassel Loafer exclusive to Brooks Brothers. This special variant of the Tassel Loafer mirrored their classic Tassel, but with one twist, a lovely foxed heel stitch. The foxed heel stitch is a double stitch in an "upside-down L" pattern on each side of the quarters closest to the heel. I have long desired to find a clean pair of the Brooks Brothers variant in the classic shade of Shell Cordovan, Color #8. But, to this day, I have been unsuccessful. I have tried to buy them from Brooks Brothers, having talked to several of their stores trying to order, including their flagship Madison Avenue shop, which is conveniently across the street from one of my favorite Alden retailers, Alden Madison. I also checked their website frequently, and saw 11A's, 11C's, 11.5B's pop up, but never my desired 11B. I even tracked for them on eBay, but never managed to snag a cleaner pair off of eBay. Unfortunately, the long standing relationship between Alden and Brooks Brothers has fizzled out, leading to the termination of several of their awesome collaborations including the Foxed Tassel, as I am now calling it, and their always amazing Unlined Shell Cordovan Leisure Hand-Sewns. But with everything, there is always a silver lining.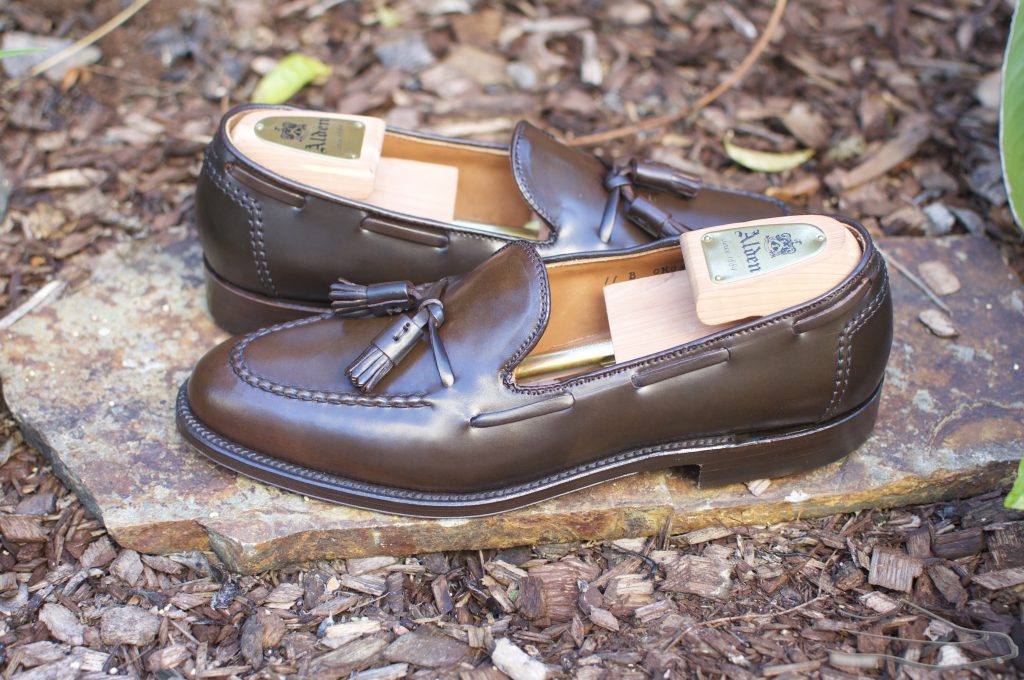 The silver lining here is the fact that the once, Brooks Brothers exclusive Foxed Tassel, is no longer exclusively available to Brooks Brothers, as you may have seen with my recent Loden Suede Tassel Loafer from David Wood. However, I had yet seen the Foxed Tassel appear on a Shell Cordovan variant. Enter The Armoury's 10th Anniversary.
For their 10th Anniversary, The Armoury, located in New York City, decided to do a special edition of the Tassel Loafer… The Foxed Tassel. They were offered Cigar Shell Cordovan by Alden and thus this loafer was born. Cigar Shell Cordovan is an exclusive color made by Horween for Alden. It is a lovely Dark Brown color often featuring slight Olive undertones. Just incase I ever forget what color these shoes are, they are conveniently labeled on the heel stamp.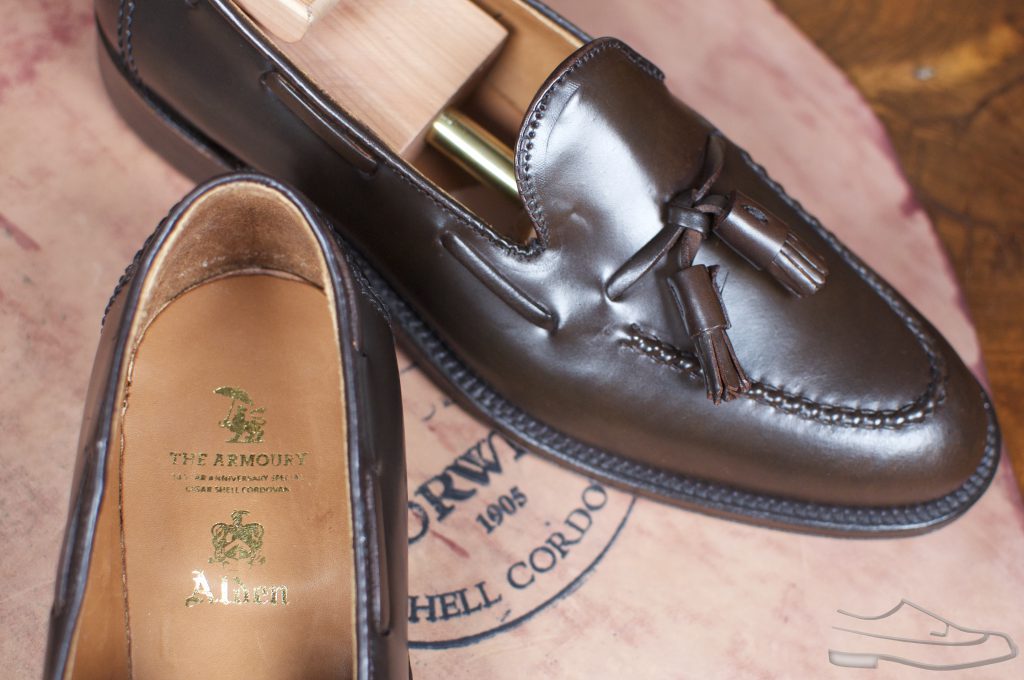 As you could have guessed from my pre-amble and the name of this post, these beautiful Cigar Shell Cordovan loafers have my long coveted foxed heel. In case the foxed heel and Cigar Shell Cordovan wasn't enough, taking these up to the next level, these tassels also have Alden's amazing hand-sewing on the apron of these loafers. If I recall the original order, these were actually supposed to have a machine stitched toe, but I am glad that these came with the hand stitching because it looks great with this model and combines nicely with the overall appearance to make one exceptional Tassel.
Traditionally, Cigar Shell Cordovan models are paired with Alden's always coveted Antique Edge, but for these, similar to their recent Cigar Plaza "Dress" Cap Toe Boots, these came paired with a Mahogany Edge. It is interesting, although I truly love the combination of Cigar Shell Cordovan with Alden's Antique Edge, these loafers look truly amazing with the Mahogany Edges. I suppose that the pairing feels more natural and combines really nicely with the design elements of this loafer to make just one phenomenal make-up.