Alden Color #8 Shell Cordovan Stitchup Boots
The 2 by 2 or "Stitchup" Boots is one of those only recently discovered design gems that Alden has been producing. I would not at all be surprised, if this pattern has been in their arsenal for years, but it recently got attention, as Alden Madison made it in concert with Stitchdown. The 2×2 name comes from the fact that the Cap Toe has two rows of double stitching on it. This is matched by the same 2×2 stitching on the heel, similar to the foxing design implemented on the Full-Strap Loafer. The overall aesthetic afforded by this design is one of refined casual. Making it a great compliment to Alden's overall aesthetic.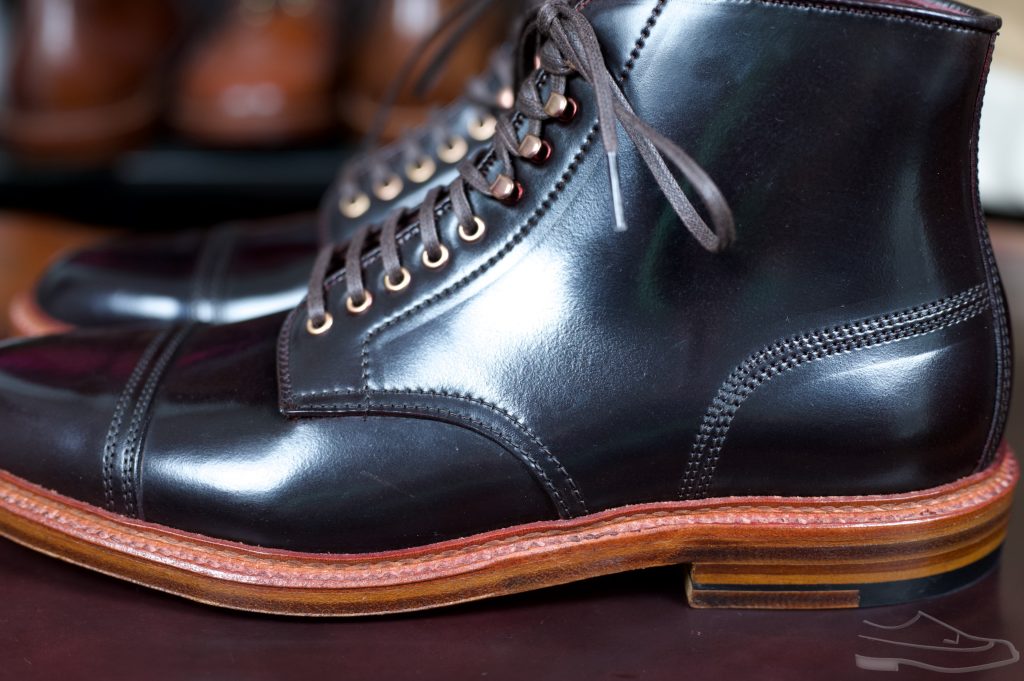 Note the pairing of Color #8 Shell Cordovan with the bright Antique Edges typically reserved for lighter shades of Shell and the Antique Brass Hardware.
This design, implemented by David Wood was actually supposed to be made of Horween's magical Color #4 Shell Cordovan. In fact, up until they came in, I was expecting the reddish glow of Color #4. However, through mistakes, they ended up dyed Color #8. That said, Alden's policy, as of now almost 10 years ago, is to not pair Color #8 with Brass Hardware. This is due to the fact that Alden applies a supplemental dye on their Color #8 Shells, to make them richer. That creates a time consuming problem, when the Color #8 dye gets on the brass hardware, requiring delicate hand cleaning of the hardware. These are no exception, as they took about a month longer to receive, than expected due to the slow cleaning process that had to be meticulously done to get them to pristine condition.
The aesthetic on these is phenomenal, and is not something that will be replicated by Alden. The new Antique Brass Hardware, paired with the Color #8 Shell Cordovan, is truly a sight to see. it creates an excellent juxtaposition between the dark, rich Color #8 Shell Cordovan, and the eye-catching bright Antique Brass hardware. Additionally, since these started their life as Color #4 Shell Cordovan, these feature Alden's lighter Antique Outsole, that is not typically paired with Color #8.
In terms of design, these boots were made around Alden's popular and friendly Barrie Last. These feature their newer Antique Hardware coming in with eyelets and speed hooks at the top, for easier access. This 2×2 design fitted with Alden's pre-stitched reverse welt that goes all the way around the shoe, creating a more casual look. Finally, the sole, a Double Leather sole, makes for a nice and clean completed product. The totality of this design, creates a truly awesome refined casual aesthetic. Check out the pictures below!