Alden Color #4 Jumper Boot
This past year has been a truly remarkable year in the Alden-verse. As I stated when I first got the David Wood's Perforated Tip Cap Toe Boot, I never thought that we would be seeing Color #4 offered by Alden again. But, as luck has it, I was wrong and Color #4 Shell Cordovan has been made in a few designs and pattern over the past 12 months.
For those of you who are not aware, Color #4 Shell Cordovan is a lovely rich shade of Shell Cordovan that uses half the dye of their famous burgundy shaded Color #8 dye. The result is an amazing, rich color that is a lovely combination of red and brown. It looks absolutely phenomenal on footwear. Alden made a several runs of shoes back in the 2010 and 2011 timeframe, but had not made anything in Color #4 Shell Cordovan since.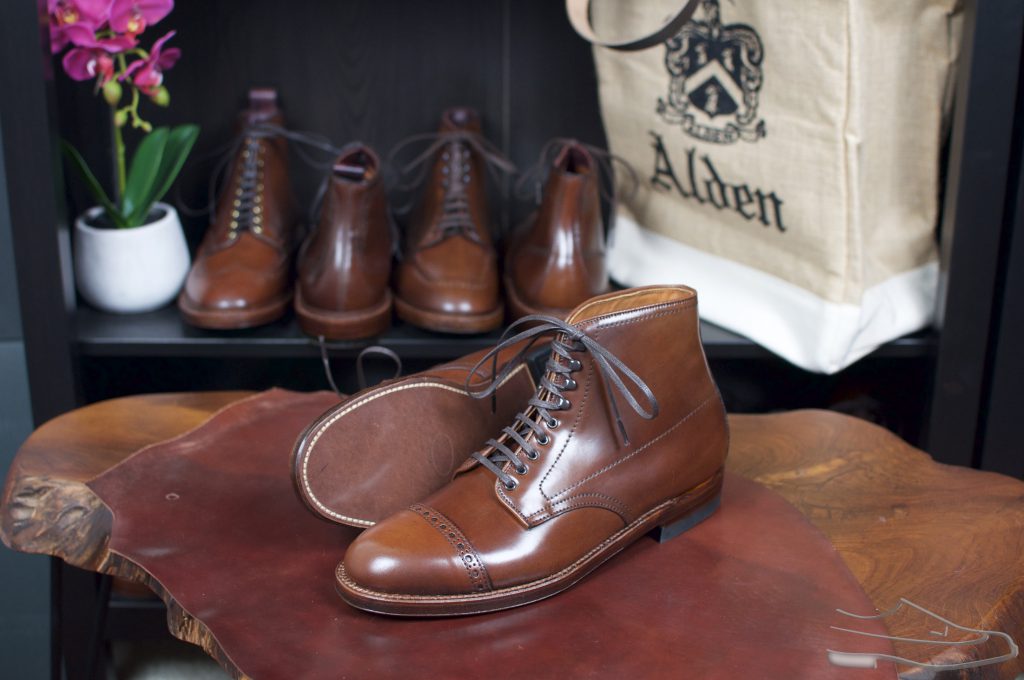 When I heard that Pelle Line was going to be doing a Color #4 Jumper Boot, I knew that I had to jump onto the order. The Jumper Boot is a Perf Tip Cap Toe (PCT) Boot made around Alden's Trubalance Last and has a completely different aesthetic to many of Alden's other offerings. Because of the "heavier" Last that it is made around, it has a more substantial look and feel and almost even approaches the vibe that one gets from Viberg. To be candid, these are probably closer to my Viberg Color #4 Shell Cordovan Service Boots than Alden's David Wood PCT Boot.
These Color #4 Shell Cordovan Jumper Boots came out perfectly. They are made around Alden's Trubalance Last, which is most known for being the last of choice for the Indy Boot. These Jumpers have matching eyelets and Speed Hooks for a more convenient lace-up experience. The Boots are fitted with a Double Waterlock Outsole, which uses Alden's home oil-soaked bends to create the final outsole for superior wet surface performance. The heel stack on these are known as their 4A Outsole and is a heavier weight heel. The edge is beautifully adorned with Alden's Antique Edge Stain and the edge is attached to the upper with a 270 degree flat welt. This attachment choice gives it a really similar feel to Viberg's stitchdown construction, wether intentional or not. I lucked out and the Left Boot's tongue has an amazing Horween Stamp squarely spotlighted underneath it, reminding me of the level of detail that goes into the material and boots.
Overall, these boots are just something to behold and a treasure that I look forward to enjoying for many years to come!
Here are these Jumper Boots compared to the David Wood Plaza-Lasted Perf Tip Boot (Right on the Indoor Shots and Left on the Outdoor Shots).