Alden Color #4 Grant Wingtip Boots
There are very few boots that can compete with the Alden Color #4 Shell Cordovan Wingtip Boots. First, the Alden Wingtip Boot pattern is unparalleled by any other vendor. Essentially every of the higher end bookmakers produce a Wingtip Boot, but the proportions on the Alden Wingtip are perfect. This, combined with Horween's magnificent Color #4 Shell Cordovan makes it untouchable! This particular Wingtip Boot is particularly unique as it made around Alden's more formal Grant Last, providing a special aesthetic.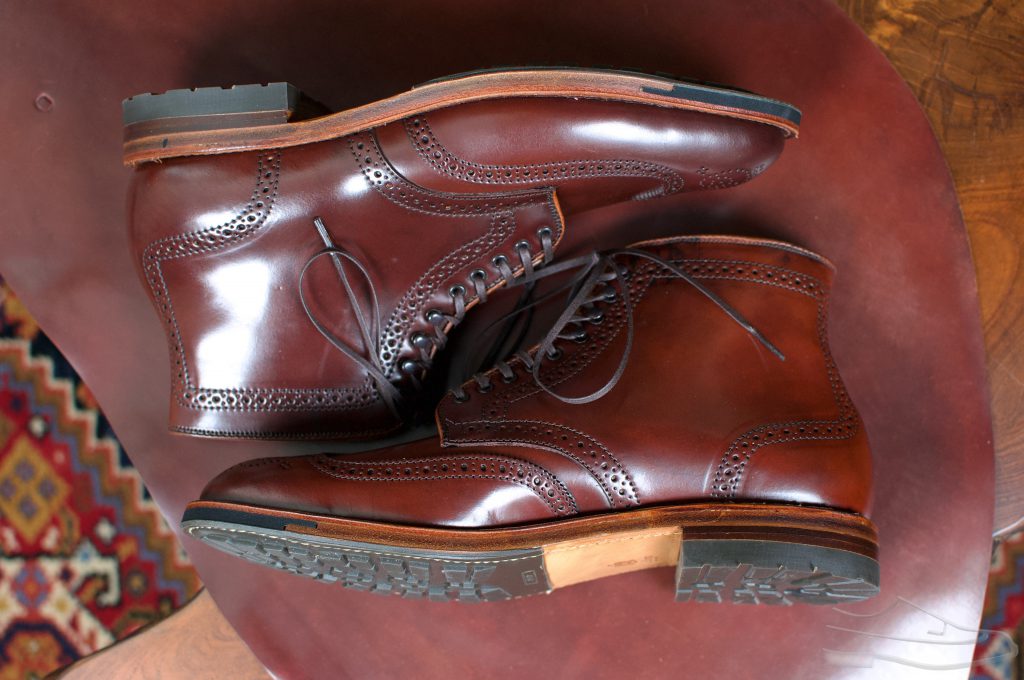 So what is Color #4 Shell Cordovan? Well, simply it is Horween's ever famous Color #8 Shell Cordovan, but with half the amount of dye added during the staining phase of production. The resultant Shell is a beautiful medium brown with a strong red undertone to it. Below is a Color #4 Shell Cordovan Shell from Horween. It is not too far off from Alden's exclusive Ravello Shell Cordovan shade, but has more red to the shade than Ravello traditionally has (as can be seen from the above picture with the Color #4 Boot being on the left and the Ravello Boot being on the right).
These Wingtip Boots are made around Alden's Grant Last. The Grant Last is typically reserved for Alden's Cap Toe Boots, but look spectacular with Alden's Wingtip pattern. The aesthetic created by this unique combination of pattern and last is top notch. Tying to the more formal aesthetic, these boots were made with a flat welt, that wraps all the way around the boots. The edges of the boot are finished with Alden's always sought after Antique Edges and the boots are finished with Commando Outsoles for superior performance under more adverse conditions. These boots feature speed hooks for a quicker getting them on and taking them off experience. Overall, these boots are top notch, with the perfect balance of details!
Below are a number of photos of these new Grant Wingtip Boots, also photographed are my Color #8 Grant Wingtip Boots, Color #4 Brass Wingtip Boots (on Barrie), and the original Color #4 Wingtip Boots (also on Barrie).