Alden Color #4 "4×4" Plain Toe Blucher
Vintage Color #4 Shell Cordovan. How many times do you get to write that? Although Color #4 Shell Cordovan made a resurgence starting in the 2020 timeframe, there was nearly a decade of silence in the Color #4 realm. And during that decade, a lot of things have changed. The few original Color #4 Shell Cordovan models are just something to behold. There is nothing like it today. Yeah, Horween continues to make Color #4, but the richness and vibrancy of the dye just isn't the same.
These Plain Toe Bluchers are in the "Dover" cut, meaning that they are made from three different cuts of Shell Cordovan. One covering the toe and the second covering the back on each side, attaching from the eye stays down to the welt line. This creates a slightly more casual style. Additionally, these bluchers known as the 4×4, only have four eyelets, making a more sporty and casual look.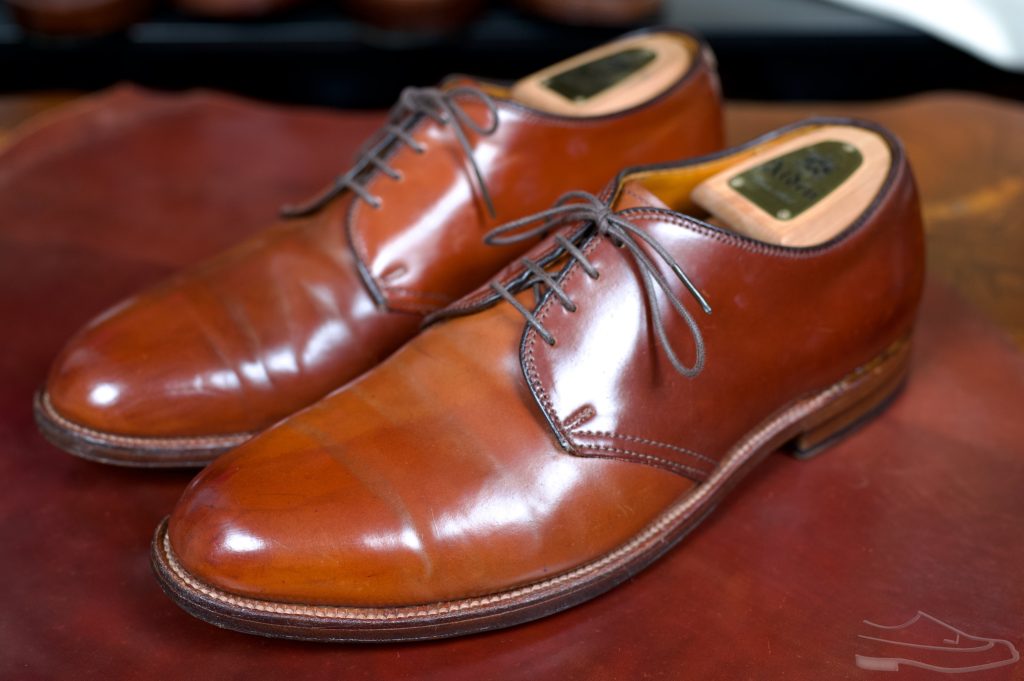 These bad boys are made out of vintage Color #4 Shell Cordovan. So what is Color #4 Shell Cordovan? Well, simply it is Horween's ever famous Color #8 Shell Cordovan, but with half the amount of dye added during the staining phase of production. The resultant Shell is a beautiful medium brown with a strong red undertone to it. It is not too far off from Alden's exclusive Ravello Shell Cordovan shade, but has more red to the shade than Ravello traditionally has. It is just a truly special shade of Shell Cordovan. Rumor has it that is was a very popular shade many years back, but fell in popularity with the rise of Color #8 Shell Cordovan.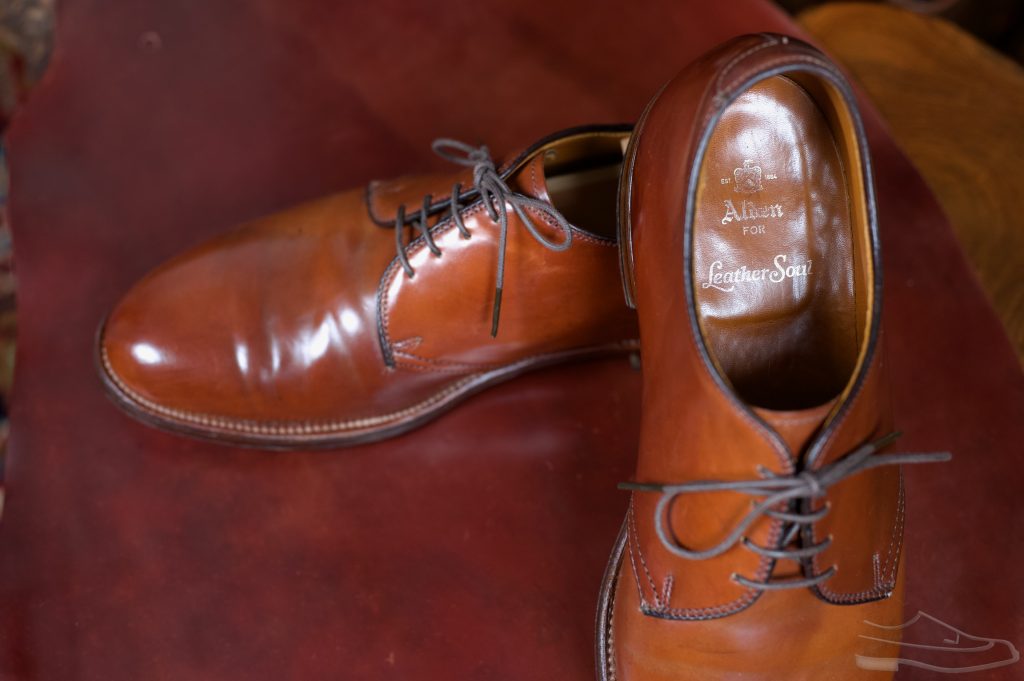 These old guys were made for Leather Soul back in the 2010 timeframe. As stated, they are made out of the exclusive Color #4 Shell Cordovan. They are a special take on the Plain Toe Blucher with the Dover cut and the four eyelets. These shoes are made on Alden's leather outsoles and feature Alden's always popular Antique Edge dressing. These shoes were made around Alden's always popular Barrie Last.
The beauty of these shoes is absolutely in their simplicity allowing the amazing Color #4 Shell Cordovan to shine, stealing the show!