Alden Cigar Shell Cordovan 6-Eyelet NST Chukka
It is interesting, I remember seeing these Chukka Boots back around the 2012 timeframe after shortly discovering Alden in a photo, that I would consider fairly timeless. They were taken side-by-side with a Ravello NST Boot produced around the same time. I thought that both of those boots were just incredible, but as a HUGE Ravello fan, I really focused on the Ravello Boot. Candidly, I never thought that I would ever see one of the Cigar NST Chukka Boots.
Much to my surprise, a pair popped up on eBay a few weeks back, so I decided that I had to take the plunge. They definitely were not in pristine condition, but the amazing part of Shell Cordovan is the ability for it to come back from the dead. I have come to love these types of resurrection projects. You definitely come to appreciate the nuances of the shoes or boots when you spend the time to bring them back to their former glory.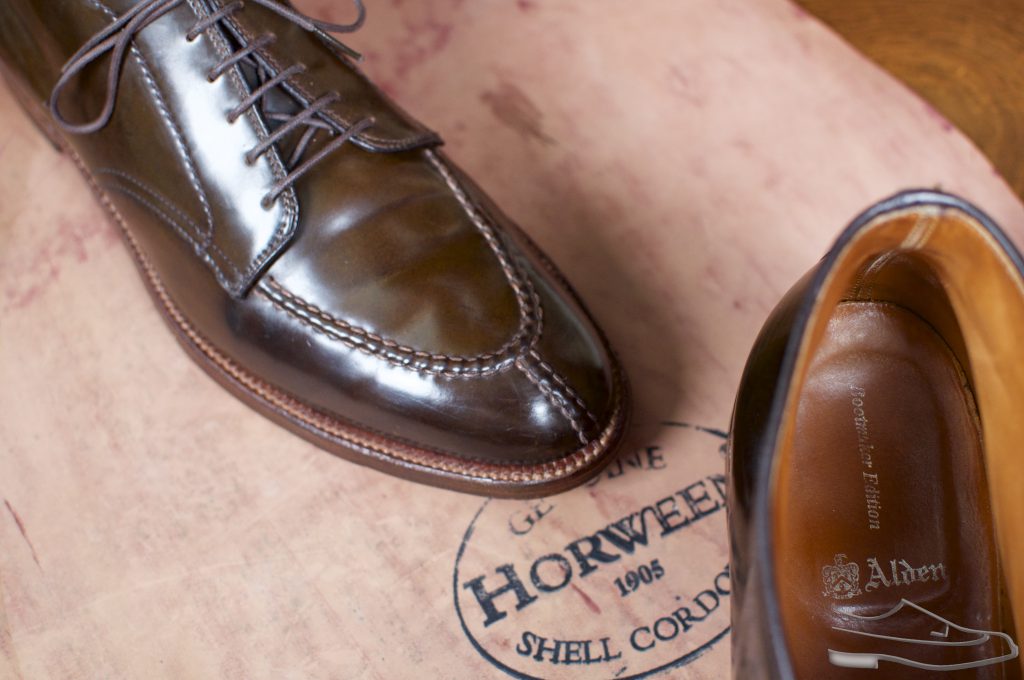 The name of these are a little bit of a mouth full, as they would properly be called the Alden Cigar Shell Cordovan Six Eyelet Norwegian Split Toe Chukka Boot. Yes, that is eleven word title of these beautiful Chukkas. Let's unpack the name a little bit… Well, of course it is made by our friends in Middleborough, MA at Alden. They are made out of Horween's famous Shell Cordovan in one of two Alden exclusive colors, Cigar. Cigar is Alden's rich brown shade that typically comes with some olive undertones. Alden's "standard" Chukka Boots typically come with just two eyelets. It is interesting as Chukkas typically vary between 2 and 3 sets of eyelets, but these have 6 eyelets! This gives them a little bit of a more formal appearance as they look more akin to a blucher than a Chukka Boot, but give you a pidge more ankle support. These 6-eyelet boots feature Alden's exquisite hand stitching along the apron of the boot and down the toe, known as a Norwegian Split Toe. Finally, these are fundamentally Chukka Boots, which is a Boot that is typically around Ankle height. It is said that the Chukka Boot comes from Polo, where a Chukka is a period of play.
All of these elements come together to make one sweet Chukka Boot that has barely ever been produced. The Cigar Shell Cordovan is paired with Alden's beautiful Tan "Antique" Edges and a double leather outsole. These are made around Alden's sleek Aberdeen Last, providing a nice long toe stitch. The overall aesthetic of these unique Chukka Boots is truly special.
Here are several pictures from throughout my cleaning process… Here is how they looked when I first got them.
Here is one Chukka done, one to go…
Finally, here are some photos of my Cigar Shell Cordovan Norwegian Split Toe collection. From Left to Right, they are the Tanker (Barrie), Chukka (Aberdeen), Blucher (Aberdeen), Loafer (Grant). Needless to say, I feel truly blessed to have all of these from Alden!