Alden Aribica Luxe Calf Stitchup Boots
I have been following Alden for a better part of a decade at this point in time and it is definitely not every day that you see Alden offer up a new material. They are a company with a deep history that love to stick to their traditions. That is why you don't always see them offering newer trendy styles such as a Double Monk. When I heard about this new Luxe Calfskin, I was definitely intrigued to see what the byproduct would be.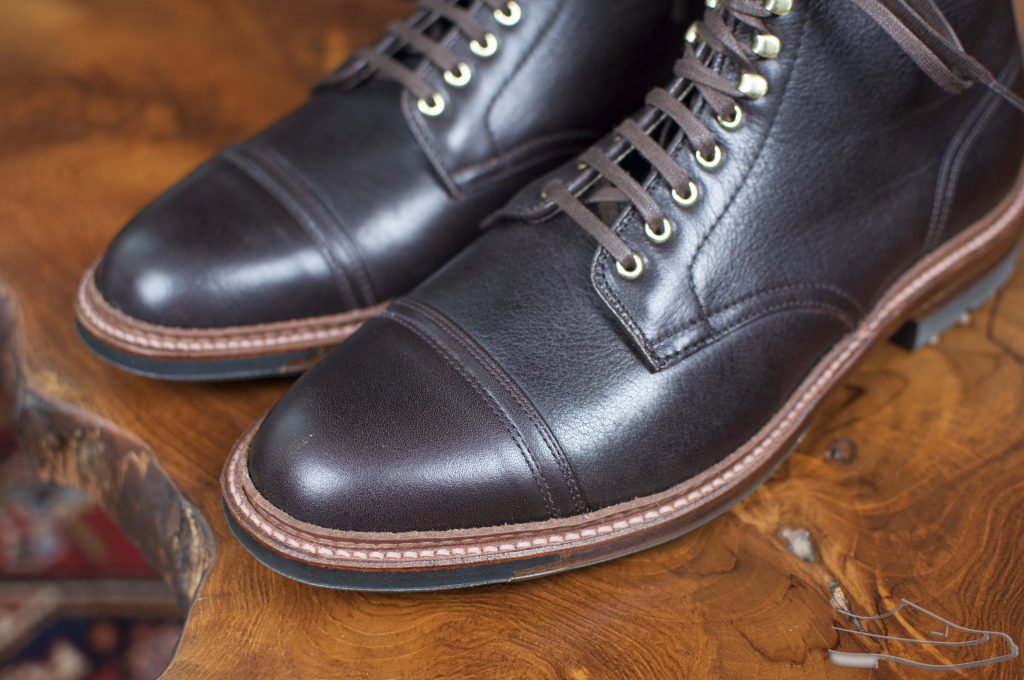 Luxe Calf is a newer leather from Horween that is closest to their Essex leather in terms of texture and feel. It is tanned using the same vegetable and bark extracts as Horween uses in their Shell Cordovan. A unique think about Luxe Calf, is that it is typically made with a base color, usually natural, and then a darker finish is being put on top. In this case, the darker finish is where the Arabica comes in. This provides the experience where lighter shades poke through in bright conditions and these boots will age over time to reveal the lighter shade below the shallow Arabica layer.
In addition to the new Arabica Luxe Leather, these shoes feature a relatively unexplored pattern. Sometimes called the 2 x 2 due to the two rows of stitching along the edge of the Cap Toe and the two rows of stitching on the rear quarters of the Boot. It definitely creates a unique style.
These 2 x 2 Boots, or what Alden Madison is calling the Stitchup Boots, are made around Alden's popular Barrie Last, creating a generous fit. These Boots feature the unique double stitch pattern along the edge of the toe and heel, providing a more casual vibe to them. This is matched with the grainy appearing Arabica Luxe Leather. These brown boots are matched with Alden's popular Antique Edge, which covers a Commando Outsole. The Commando Outsole is attached to the upper with Alden's Pre-stitched Reverse Welt. These boots are topped with nicely contrasting polished brass eyelets and hooks.
All of these aesthetics come together nicely to create an awesome streetwear offering that is both refined and casual.