Alden AOC-81 Choco Suede U-Tip Saddle Blucher
When I think of Alden of Carmel, one of the designs that comes to my mind is the U-Tip Saddle Blucher. I think that their first special make-up, the AF-1, was their Whiskey and Mahogany Shell Cordovan U-Tip Saddle Blucher. The AF-1 sets the bar pretty stinking high in terms of special make-ups. However, this special Suede model takes the right cues from that model, but takes on an appropriate casual twist, to make these a truly special model.
If Snuff Suede is my favorite shade of Suede offered by Alden, then Chocolate Suede is a very close second. It has a nice and rich color tone to it and it is really hard to beat a beautiful Dark Brown shoe in terms of usability.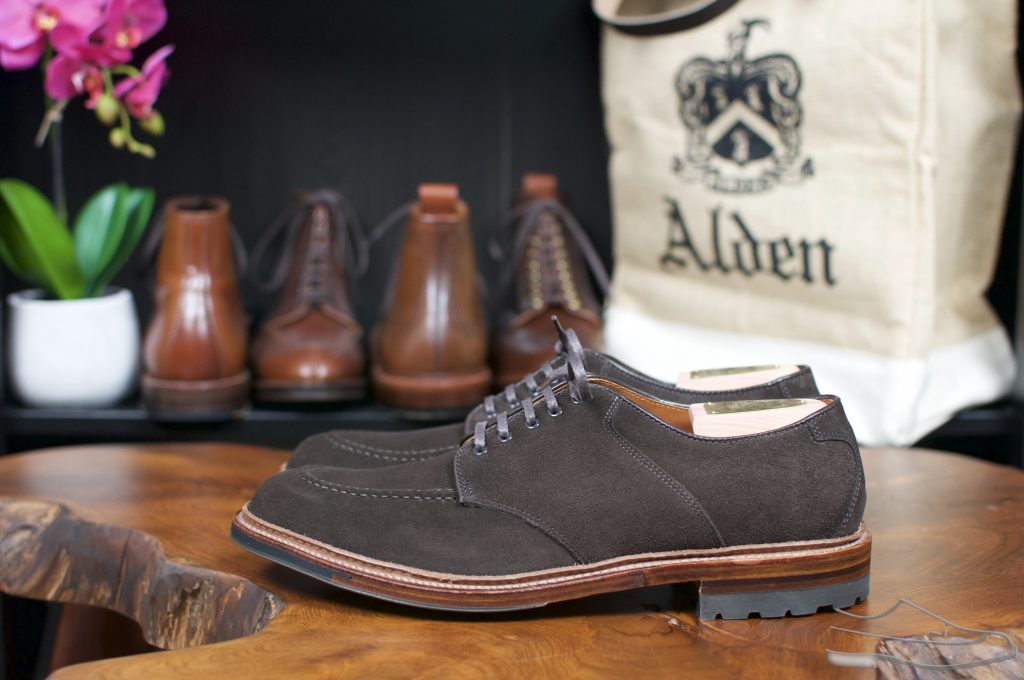 These shoes are masterfully crafted around Alden's Barrie Last, a slightly more casual last that is very forgiving. They feature Alden's amazing hand-stitch work around the vamp of the shoe, really adding such a nice touch. The hand-stitching is done in a tonal thread, providing some contrast, but limiting the contrast on these shoes, helping to keep them more on the formal end of the spectrum. These beautiful shoes do get a nice character "pop" via their Tan "Antique" edges that goes around the shoe and leads way to Alden's famous Commando outsole, creating a nice comfortable and rugged feeling to these shoes. The truly cool part of these is the play between the U-tip design and the Saddle design. I really love how the different pieces of suede come together to create a truly unique and stylish blucher.