Alden Amaretto Shell Cordovan Jumpers
They say that lightning never strikes the same spot twice, but apparently it can! I honestly cannot believe that I am writing this post, as these amazing boots just dropped out of the sky for me! I didn't pre-order them, I didn't know that they were going in, or in production, I just got a call when they arrived. And wow was I pleasantly surprised. Amaretto Shell Cordovan is one of the newest shades of Shell Cordovan created by Horween and it is an amazing shade.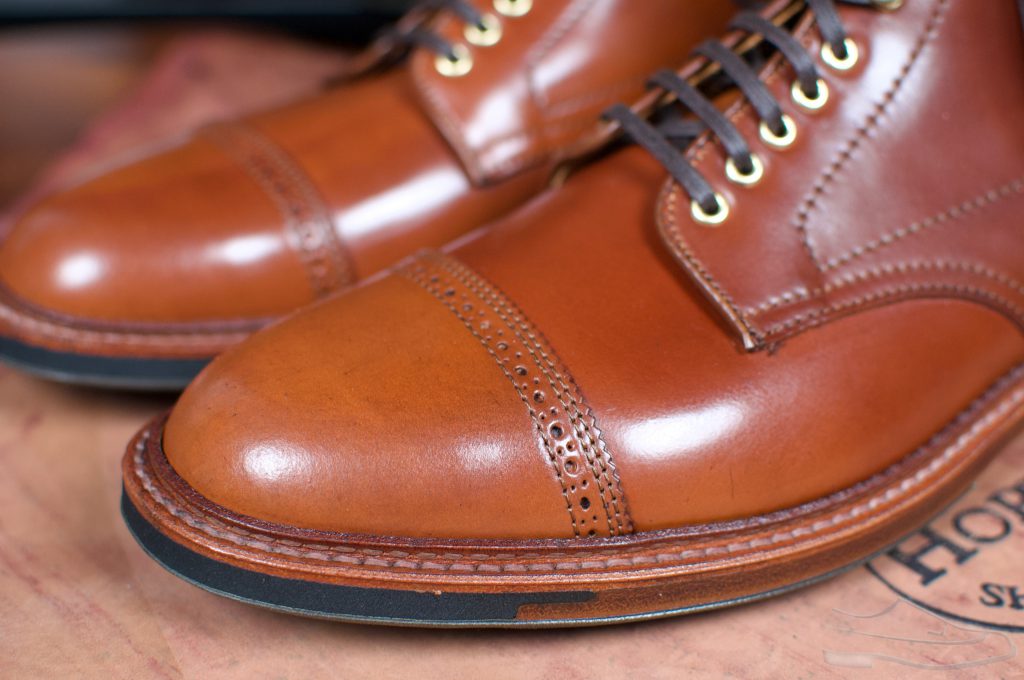 Amaretto Shell Cordovan is a special shade of Shell Cordovan that is on the medium-to-light brown end of the shade spectrum. It features an amazing orange-like undertone to it that manifests into a truly magical shade of Shell Cordovan. It has a lot of richness and depth to it that many other shades just do not have. Although both Ravello and Color #4 Shell Cordovan hold a special place in my heart, I think that Amaretto may be my favorite shade of Shell Cordovan. It just pops nicely, and fortunately, living in San Diego, I can really enjoy these shoes due to the more casual nature of my locale.
These boots, made by Alden Madison, are the quintessential Jumper Boot. They feature the classic pinked, brogued Cap Toe design. It has the Alden classic indy stitch on the quarters of the boot, creating a nice and simple, but complete design. These Amaretto Jumpers are completed with Alden's Pre-stitched Reverse Welt, that goes all the way around the Boots. The Edges are made out of the one-and-only Antique Edges. And these Boots are completed with Alden's Commando Outsoles. The Amaretto Shell is perfectly paired with Alden's Brass Hardware featuring speed-hooks on the top, for easy access. Simply put, these are the jumpers that will set the bar for years to come.
Overall, these are the perfect Jumper Boots, featuring a simple, but perfected design. Please enjoy the pictures below along with their Perf Tip Amaretto brethren made by CitiShoes (now Style-by-Blain).